TL;DR: Fundamental to how GoodTime operates is that fact that we can see all of your employees via our connection to your company directory. It is through this sync with your company directory, and the unique permissions of each of your logged-in users, that GoodTime is able to see the calendars of your listed employees.
When you have a new employee join your company, after they are provided with their work email address and appear in your employee directory, GoodTime will also be able to see and start scheduling this employee.


How is this directory sync established?
GoodTime will automatically start synching with your company directory from the moment your initial user and Super Admin logs in to your GoodTime account. During this initial login a popup similar to the one shown below will appear to request your Super Admin authorize this sync: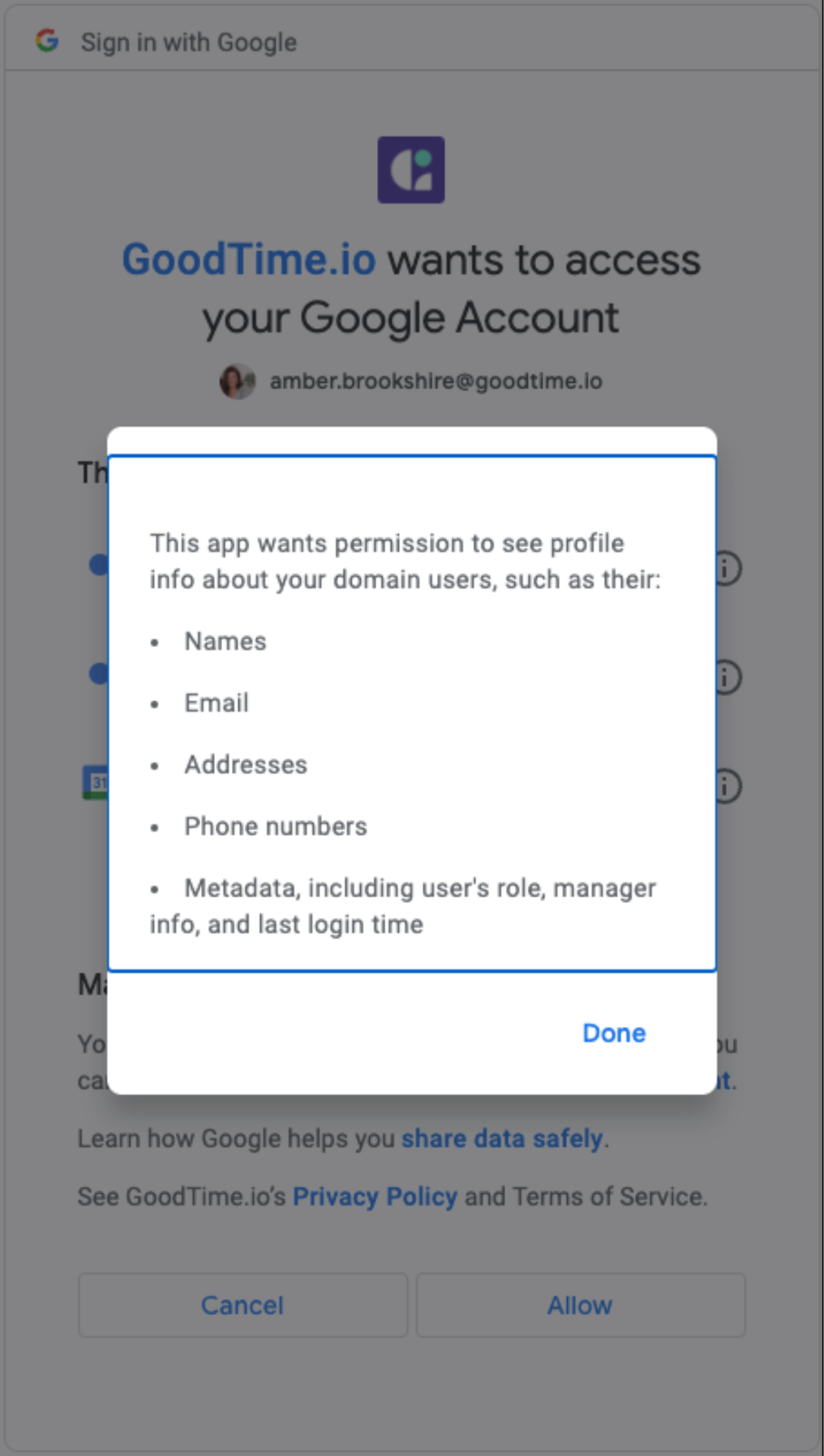 NOTE: When syncing to an O365 directory, while the concept is the same, the process is a little different (the O365 integration process is outlined here).
What can GoodTime see?

The information about your employees that GoodTime is able to read as part of our sync to your company directory is as follows:
Employee Names,

Email Address (+ any connected alias),

Phone Number (if listed on your company directory),

Title (if listed on your company directory), and

Calendar time zone.
Additional Notes:
GoodTime will sync with your company directory once every 24 hours to update and add any new employees, updated information, or remove contacts that no longer appear in the directory.

Also good to note, if there is a missing teammate who IS in your Directory but is not in the GoodTime Team tab; please confirm the user has the same domain (ie; @goodtime.io) as the rest of the company. GoodTime does not support multi-tenant integrations and as such will only connect with a single company directory and domain at a time.
If you are not seeing a new team mate or updated information that was put in the directory over 24 hours ago

please check with your IT team to confirm that no changes have been made to the employees '

Directory Sharing' settings

.

An employee who has 'Directory Sharing' disabled on their account will not be seen by GoodTime. The following article from

Google further details directory sharing settings: https://support.google.com/a/answer/60218?hl=en (If you are an O365 customer please speak to your CSM or the GoodTime Support Team for additional troubleshooting steps)