TL;DR: To get the most from GoodTime you will want to download the GoodTime Google Chrome plugin. The GoodTime Google Chrome plugin will allow for the 'Open/Schedule in GoodTime' button to appear within your Applicant Tracking System (ATS).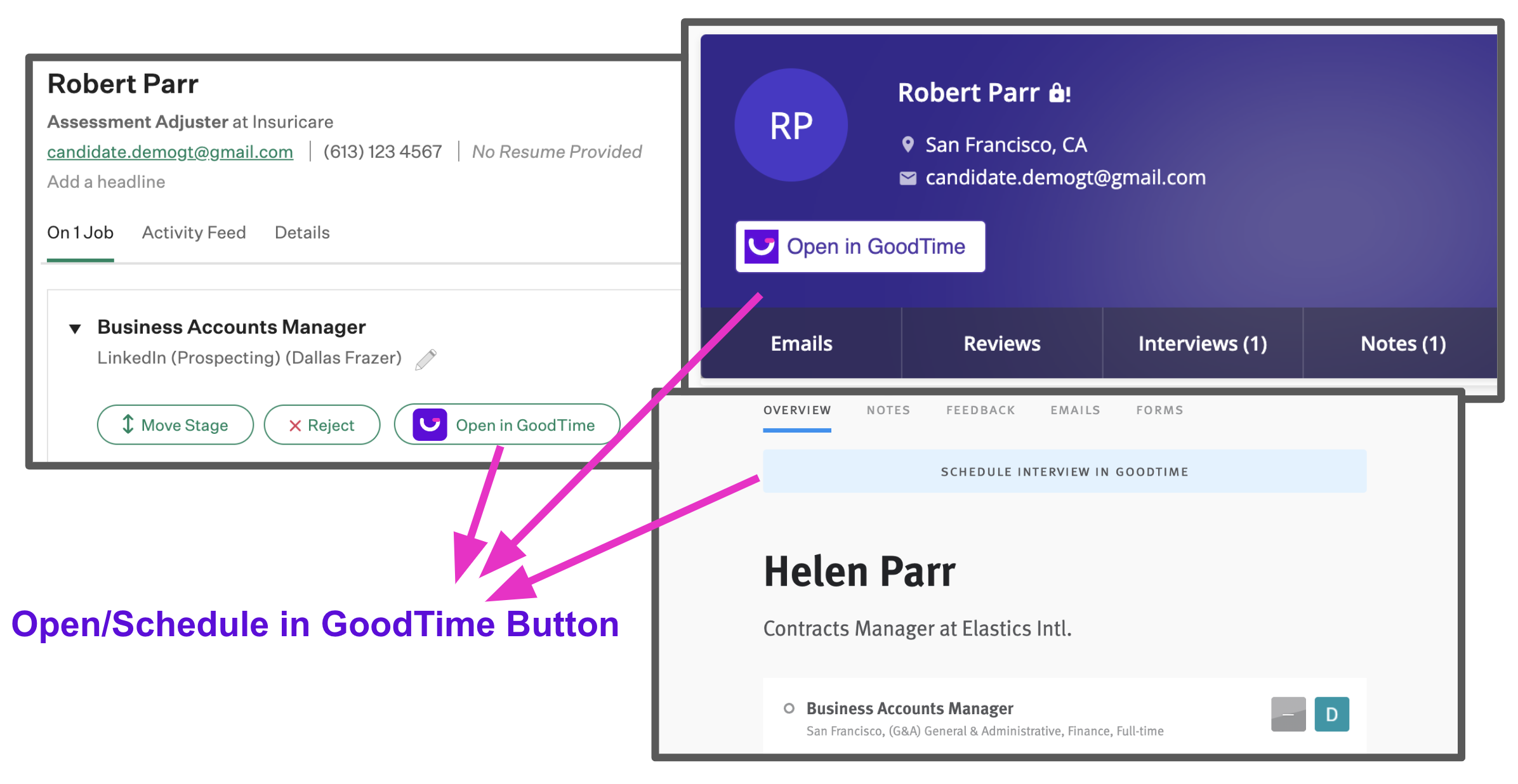 Download the GoodTime Chrome Extension.
To ensure you are downloading the correct Google Chrome extension for your own Applicant Tracking System (we integrate with a few different ones) please use the following steps:
Click on your profile picture in the top right corner of the screen
Click on 'Download Plugin' menu item

The chrome web store will open to the page that allows you to download the appropriate extension for your ATS.
Click 'Add to Chrome' in the top right corner and then + 'Add Extension'
Click refresh within your ATS browser window to see the 'Open in GoodTime' button appear.
How do you Identify the Version of your Chrome Extension?
Open your ATS in a web browser window.
Click on the puzzle piece icon in the top right of the browser to see your installed extensions.
Click on the 'More Items' menu under the ellipses beside your GoodTime extension.
Click on Manage extensions to see the version number associated with your extension.
Troubleshooting: What do I do if my Chrome Extension is not working?
If you find that your chrome extension is not working or the 'Open in GoodTime' button fails to appear after downloading the plugin please step though the following:
Double check that your extension is correctly ENABLED.
a. Click on the puzzle piece in the top-right corner of Chrome,
b. Click Manage Extensions,


c. Find the GoodTime extension and make sure it is currently enabled (toggled on).




UPDATE your GoodTime chrome extension
a. Open a chrome web browser window and go to: chrome://extensions/
b. Click the 'Details' button on the GoodTime Chrome extension tile
c. Toggle on 'Developer Mode' in the top right of your screen
d. Click the 'Update' button in the top left (you should see you version number update)
e. Toggle off developer mode and close your extension tab.


Check that your Chrome browser version is up to date
a. Open a chrome web browser window and go to: chrome://settings/help
b. If you browser is not up to date please click on the button to update it.


If, after the previous 3 steps, you still do not see the 'Open in GoodTime' button within your ATS candidate profiles or the button appears but does not work then please:
a. Reach out to GoodTime 24/7 support team (either via the purple chat bubble of via email at support@goodtime.io) and detail the issue you are facing with your chrome extension.
b. Please share a copy of the URL from a candidate profile page where you should be seeing the button (this URL can help in diagnosing the issue)
c. Please also offer details of your chrome extension version and the ATS you use.