TL;DR: GoodTime has a 'Specific' time feature that allows for the scheduler to set the specific start date and time at which an interview event should occur. The most common use case for this feature is when you have a key interviewer who you know is only available at a specific time and you would like the rest of the interview events to be built around this one interviewer's availability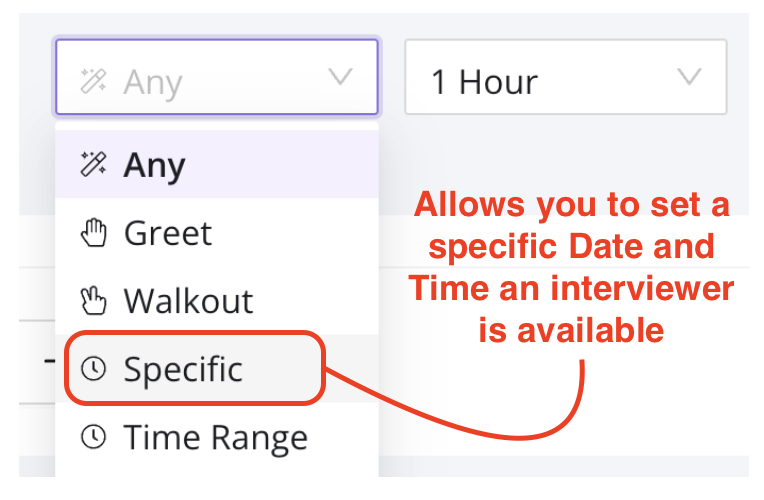 How To Set Specific Time:
You will find the option to set a 'Specific' time within the Schedule Now workflow along with all the other time range drop-down options.
NOTE: Best Practice is to set as many events as possible to 'Auto' as it allows the GoodTime algorithm the ability to provide the widest range of interview options possible.
Once you have selected 'Specific,' you are required to also provide a start date:

Next set the event's start time:

Finally, indicate the Time Zone in which the specific event should occur:

NOTE: While the Specific time feature may be most commonly used to indicate when a specific interviewer is available to meet with a candidate, it is worth noting that the specific time you set is linked to the interview event within the interview panel NOT the listed interviewer. This means if you adjust the listed attendee, the specific time setting will remain attached to the listed event.
Once a specific time is set, all of your search results (whether for a single day or across multiple days) will all honor this specific time and all other results will be arranged around this specific event and the date and time you have set it for.
Don't forget! The candidate's availability should incorporate the Specific date and time that have been set, so GoodTime's algorithm can easily find interview options that match.