Zoom Host Pools Guide
Updated October 5, 2020 - This guide describes how GoodTime's Zoom host pools feature works.
Background:
By default, GoodTime will generate Zoom links from the scheduler's account. Zoom by default has a limitation on the number of concurrent meetings links that can be created by any single Zoom account. For business accounts, you can have 2 concurrent meetings, including internal meetings. This means if the system generates three links for interviews occurring during overlapping hours of the day, both videos will be terminated when the third link is accessed. For more details, see this public help document from Zoom help articles explaining the restriction.
GoodTime's Zoom Host Pools solution allows you to generate all zoom links from one separate Zoom Pro account (ie. recruiting@goodtime.io) that is licensed 20 concurrent meetings. See this help article on how to license your account for concurrent meetings.
*Note: If you have more than 20 interviews occurring at one time, we recommend licensing the scheduler's accounts for 4 or 20 concurrent meetings instead of one zoom host pool.
Getting Started:
Purchase your Zoom Pro seat license that will be used for the Zoom host pool. This additional Zoom Pro seat licenses should not be assigned to any individuals.
Ensure that the setting "Join before host" is toggled on.
NOTE: If you are using passcodes, please make sure the host pool account has passcodes also enabled.

Enter your host pool into the Zoom integration in GoodTime:
Log into

GoodTime > Settings > Company

(must have Super Admin permission level).

Under "Video Conference Service Integration", find "Zoom". Open it.

Check "Use Zoom host pools to schedule interviews."

In the "Zoom Accounts" field, add in the Zoom host pool account (i.e. recruiting@company.com)

Enter the number of concurrent meetings your account is licensed for.
Please note, the Zoom account does not need to be associated with a name from the directory dropdown that appears when inputting the Zoom host account. Once you have typed in the email address, press enter and it will appear as seen below.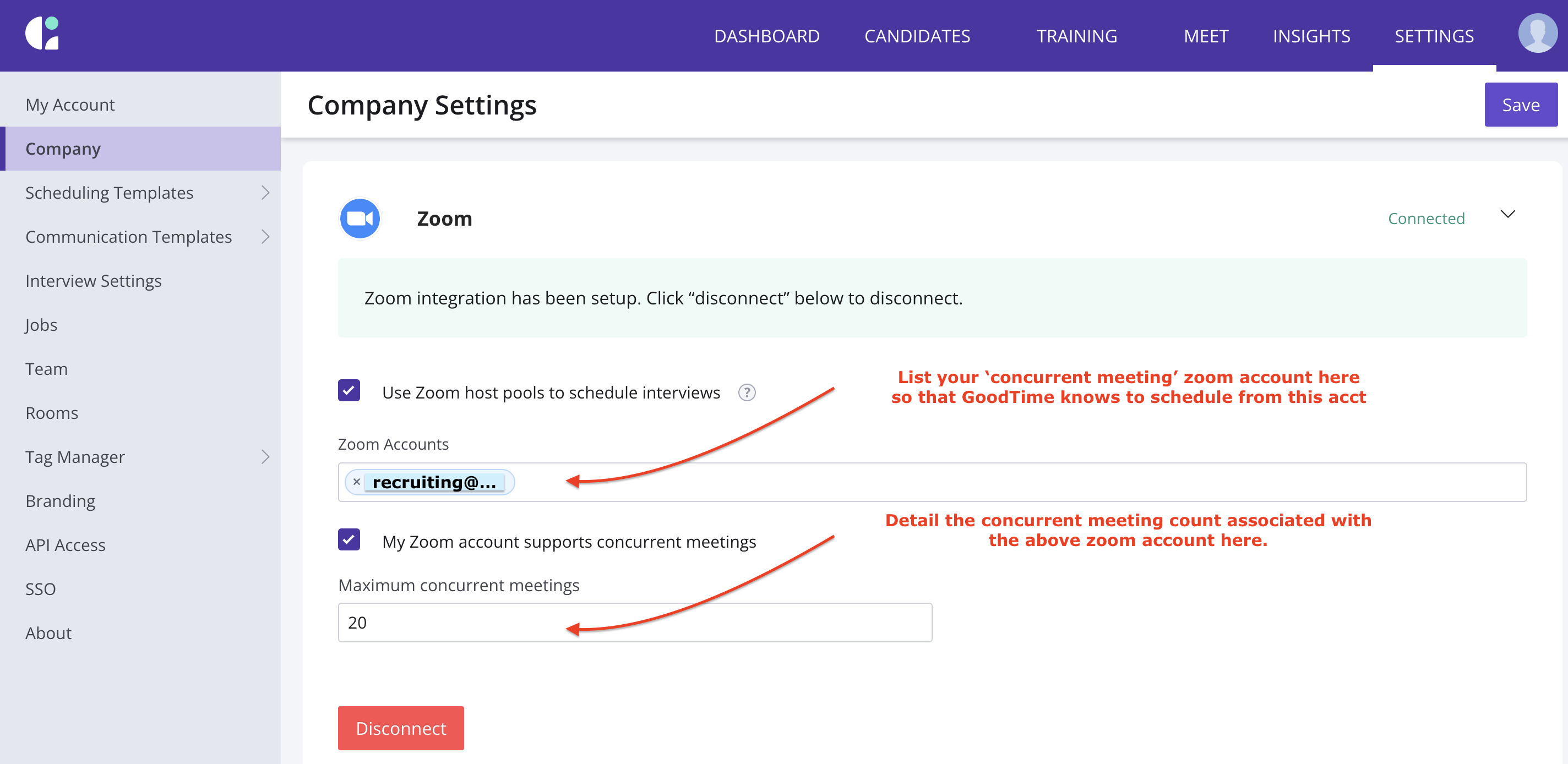 How It Works:
The Zoom host pool will tell GoodTime to generate all Zoom links from this account instead of the scheduler's account. The Zoom host pool (ie recruiting@companyname.com) will be the host of the Zoom meeting.
Guidelines:
The scheduler's/RC's Zoom account will be used once the host pool has been exhausted.
For example, if your Zoom host pool has been used to schedule 20 concurrent meetings, GoodTime will generate the 21st concurrent meeting from the scheduler's account, making them the host of the Zoom meeting.
Should your account use 20 or more host pool seats, there will be an alert to whoever is scheduling once you reach 75% of the pool capacity for a specific meeting time. Otherwise, GoodTime will send out an alert when you reach the capacity.
The Zoom accounts used as hosts in the host pool have to be active.