TL;DR: Once you have successfully implemented GoodTime and your recruiting team is efficiently scheduling within the tool, there are some ongoing account management tasks that you might also want to consider to maintain your efficiency: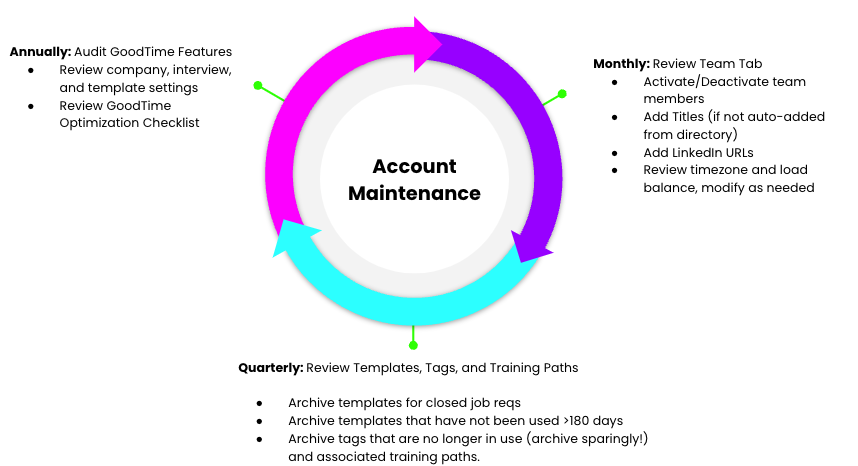 Monthly:
Regularly audit your user permissions.

Ensure you do not have users with unnecessary access, which reduces the chance of accidental setting changes and limits the unnecessary creation/duplication of templates or tags.

Encourage "Super Admins" to be a part of your GoodTime maintenance plan.

GoodTime Recommendation:

Review User Permissions

Review and update the Titles and LinkedIn profiles for new Interviewers.

If GoodTime does not automatically pull details of your employee titles from your employee directory you may want to add titles for new employees on a regular cadence so that this information can be shared with candidates.

Adding the LinkedIn titles of new users must always be a manual update from within your account.

GoodTime Recommendation: Consider including Team Member Settings as part of your onboarding cycle.

Quarterly:
Remove any unused scheduling templates.

Establish a clear naming convention to avoid unnecessary duplication.

Create a cadence of removal once a template run its course

Consider creating generic templates for early stages

Leverage Base templates so creating templates is easy!

Archive Unused Templates - Deleting Interview Templates
GoodTime Recommendation: Review quarterly!

Audit your tag groups to keep them up-to-date.

Establish a cadence to review your assigned tags to ensure accurate pools of interviewers

Consider adding demographic/basic tags as part of your onboarding cycle

Assign Super Admins as "Tag Gurus" to maintain your tag library

Leverage the GoodTime Interviewer Training feature to automatically assign tags to qualified interviewers.

Archive with caution!: Deleting Tags

Interested in incorporating Tags to further automate your scheduling?

GoodTime Recommendation: Review quarterly!

Remove any unused Training Paths. Deleting Training Paths

Annually:
Conduct an annual feature audit to ensure you are getting the most GoodTime!
Need more templates, tags, and training paths? Please reach out to your GoodTime CSM!