TL;DR:  GoodTime allows for you to easily create candidate feedback surveys and attach them to either Base or Interview templates.  This structure allows for you to take a 'Candidate Pulse' at as many points through a candidates recruitment journey as you wish.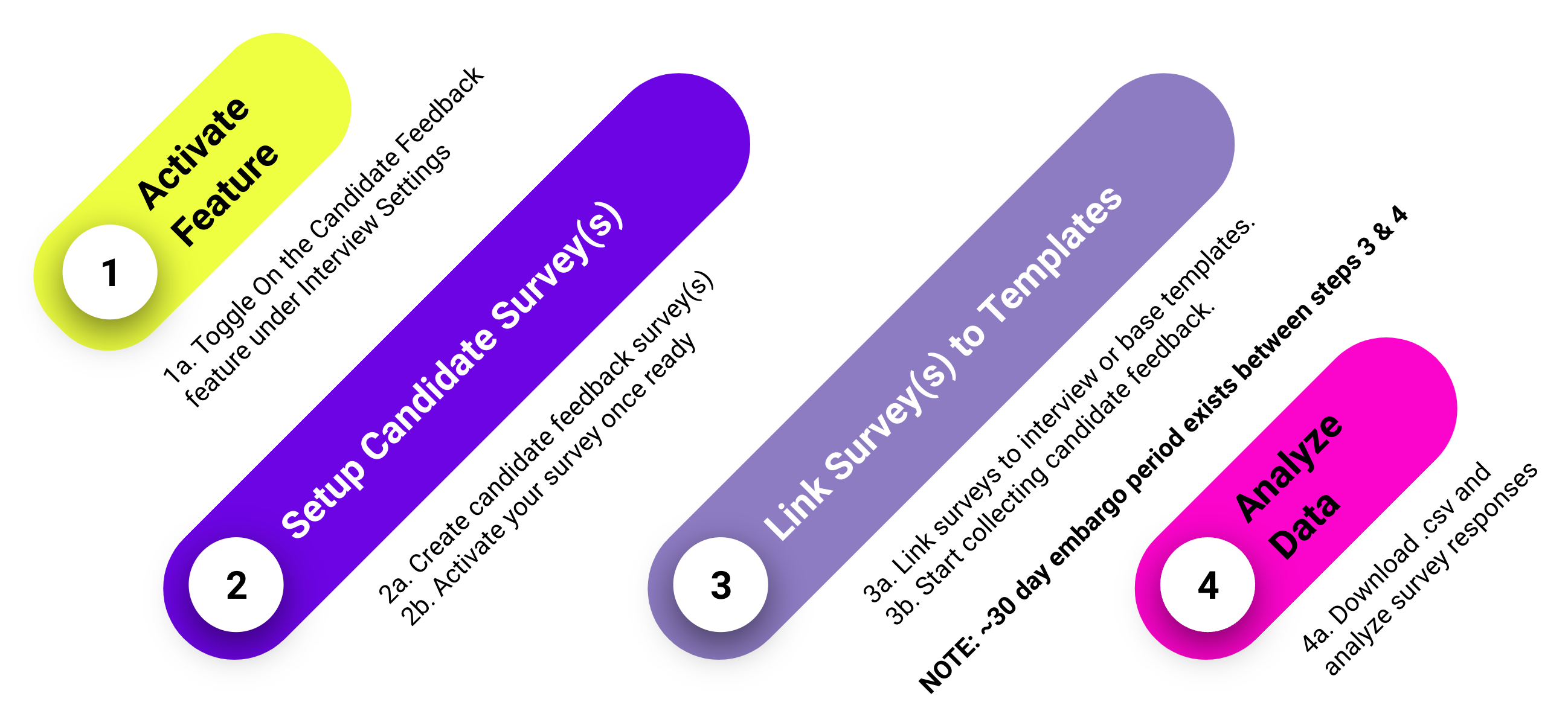 Many Applicant Tracking Systems (ATS) have a simple candidate feedback survey option.  ATS provided candidate surveys typically consist of a rigid set of questions, sent only after the entire interview process is complete. 
GoodTime's 'Candidate Pulse' survey feature offers some key benefits over existing ATS based survey tools you may have access to.  The GoodTime Candidate Pulse feature offers our customers the ability to:
Using the 'One-Click' pulse survey you can immediately collect NPS style feedback from your candidates throughout their recruitment journey!

The One-Click survey allows for easy analyses of your recruitment processes so you can quickly identify areas of concern or value
The One-Click survey generates response rates ~150%* above the industry average for single engagement candidate surveys.

(*Bata is from initial GoodTime customers BETA testing this product)

Create different candidate pulse survey templates to reflect specific roles and/or stages in your interview process; If you wish, apply them to individual interview templates, and collect feedback after every step of the interview process.
Build survey templates from a bank of available questions to support easy data comparison.
Collect candidate feedback anonymously; we offer double blind anonymity for candidates by first collecting information anonymously, and then releasing that information only when a 30 day embargo period has passed.  Candidates should feel comfortable submitting candid feedback without fear of it impacting the hiring decision.
While responses cannot be traced back to individual candidates, depending upon how you structure your surveys you can receive valuable feedback that directly relates to specific roles or stages within your recruitment process.
Users with Super Admin permissions have direct access (after the ~30 day embargo period) to download all candidate survey results as a .CSV file which allows for you to conduct further analysis to drive meaningful changes to your recruitment processes.

The following article provide greater detail regarding the setup and use of the GoodTime Candidate Pulse Feature: Candidate Pulse - Setup and Use