TL;DR: The following article provides you with a best practice overview of how to setup and utilize the GoodTime 'Candidate Pulse' feedback survey feature.

Overview:
Candidate Pulse feedback surveys are designed to help you understand your candidate's experience throughout the interview process. This feature gives you the ability to:
Create candidate feedback surveys, tailored to specific roles

Assign surveys to specific base or interview templates

Offer candidates a feedback mechanism with double-blind anonymity which

gives candidates confidence to reply honestly without fear of impacting their candidacy

Download .CSV reports

, after a 30 day embargo period, to analyze and refine your recruiting process
Candidate Pulse Setup and Use Summary:
1. Activate the Candidate Pulse Feature
2. Setup Candidate Survey(s)
3. Link Surveys to Templates
4. Download and Analyze Data
Video Tutorial:
The following video provides an overview of the above 4 setup and usage steps.

1. Activate the Candidate Pulse Feature
NOTES: The Candidate Pulse feature is available to ALL customers.
1a. To setup this feature you will need to go to Settings > Interview Settings > Basic Interview Settings and toggle on 'Collect Candidate Feedback after Interviews'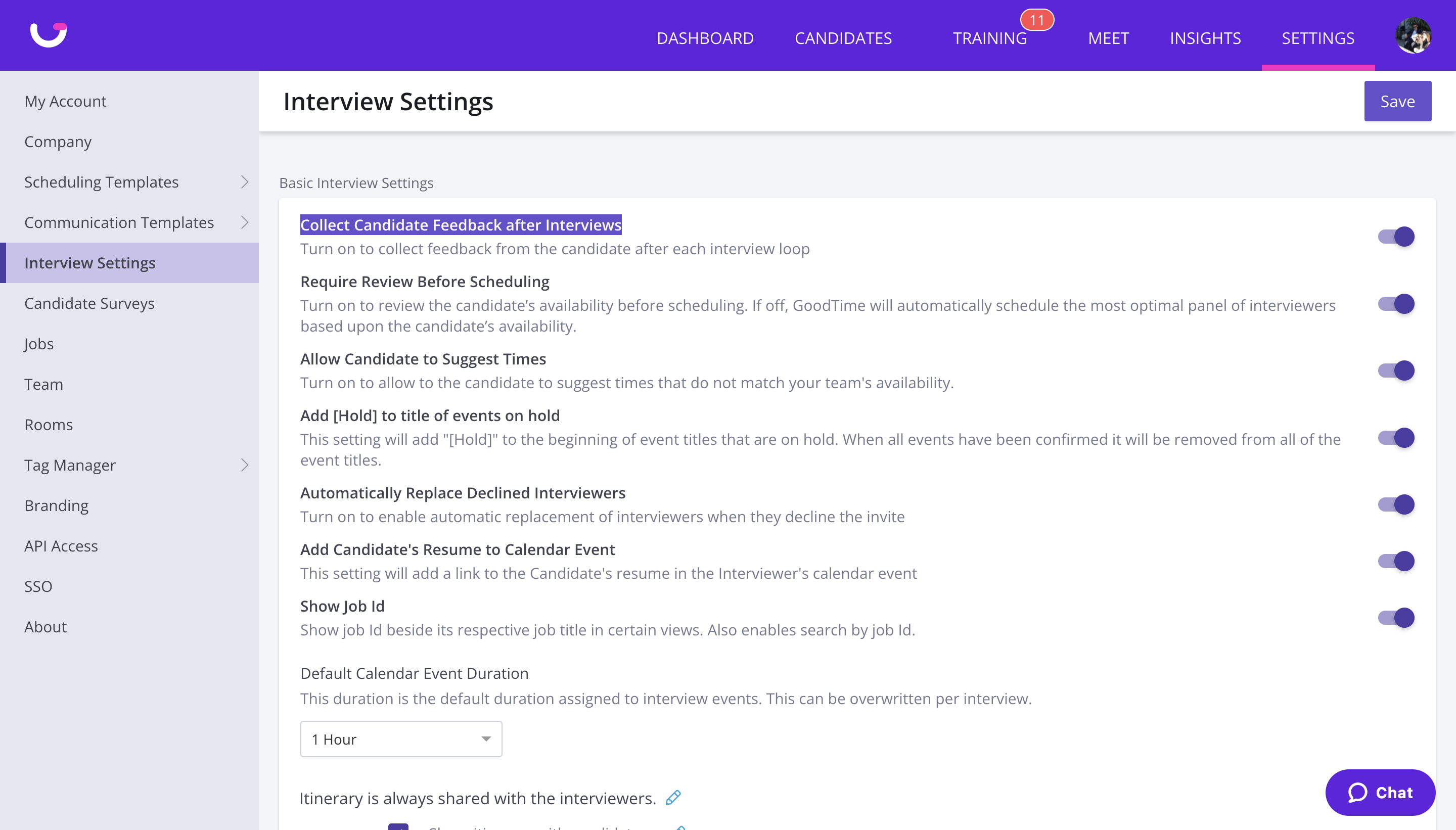 2. Setup Candidate Surveys
2a. Create your candidate feedback surveys by going to the Settings > Candidate Surveys* tab in the Settings page and clicking on the 'Create Survey' button.
* Note that the 'Candidate Surveys' tab is only available to Super_Admin users.
- Create a new survey by clicking the + Add a Question button and selecting from the question bank.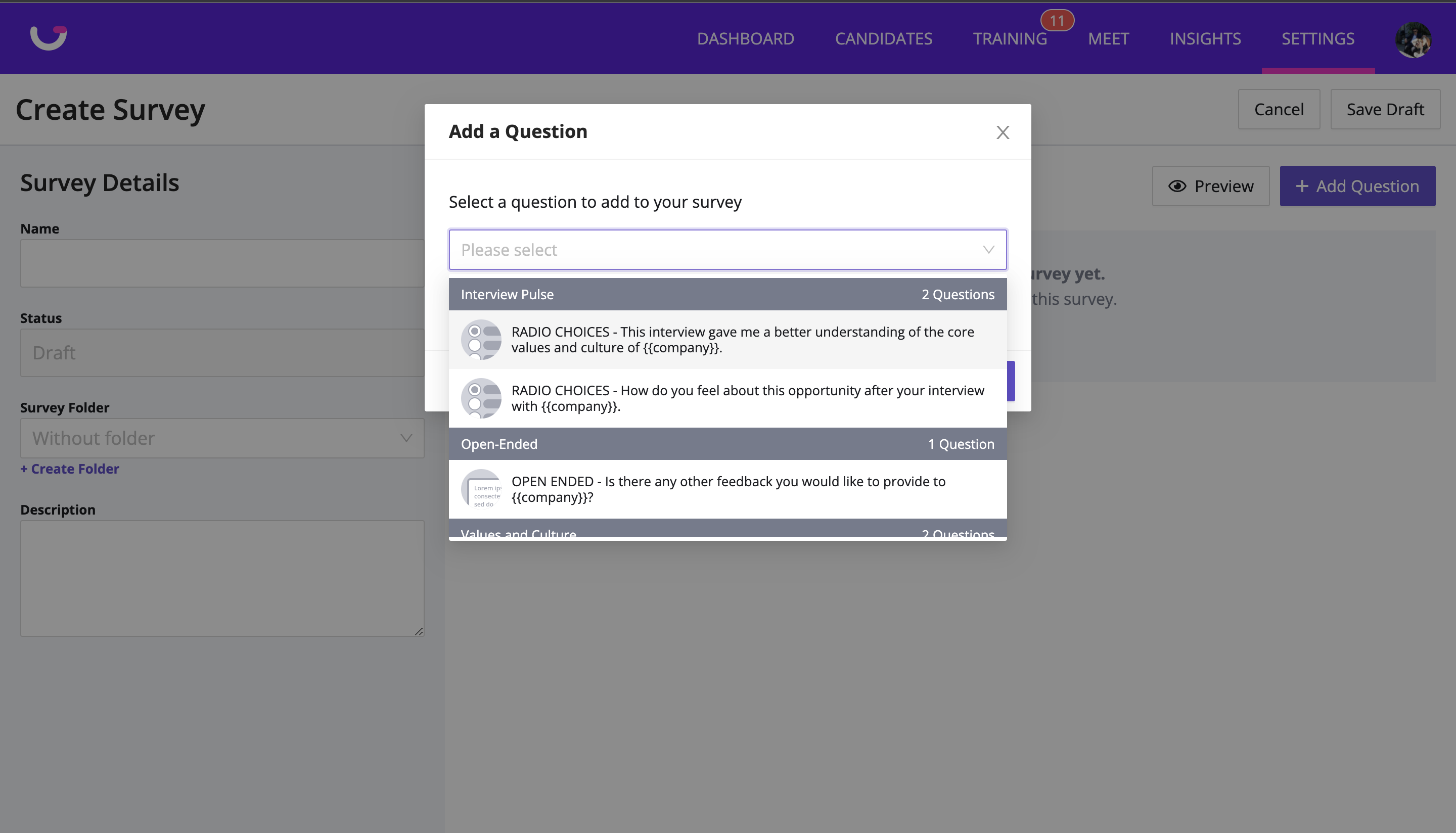 - You are also able to create a folder to help you neatly file the Candidate Surveys you create
- BEST PRACTICE: If you are creating a survey to support a specific Interview or Base Template then we recommend naming your candidate survey to reflect the template/role or interview stage you plan on linking the survey to.
- Once you have completed your survey be sure you 'SaveDraft' in the top right.
2b. Activate Survey once you are ready for your survey to be shared with candidates
- Surveys can only be modified and edited when in draft mode.
- A survey cannot be deactivated and edited. This is done intentionally to ensure that once a survey is activated and linked to a template you can deliver a consistent set of questions to all candidates and analyze your received responses/data in a consistent manner.
3. Link Surveys to Templates
3a. You have the ability to see and add surveys on individual base on interview scheduling templates. You can do this by going to Settings > Scheduling Templates > Interview Templates > and choose the Candidate Survey tab. Click '+Add Survey Template' and you will see a list of active survey templates you can choose to add to the template. Select the survey and click save, and you are all set.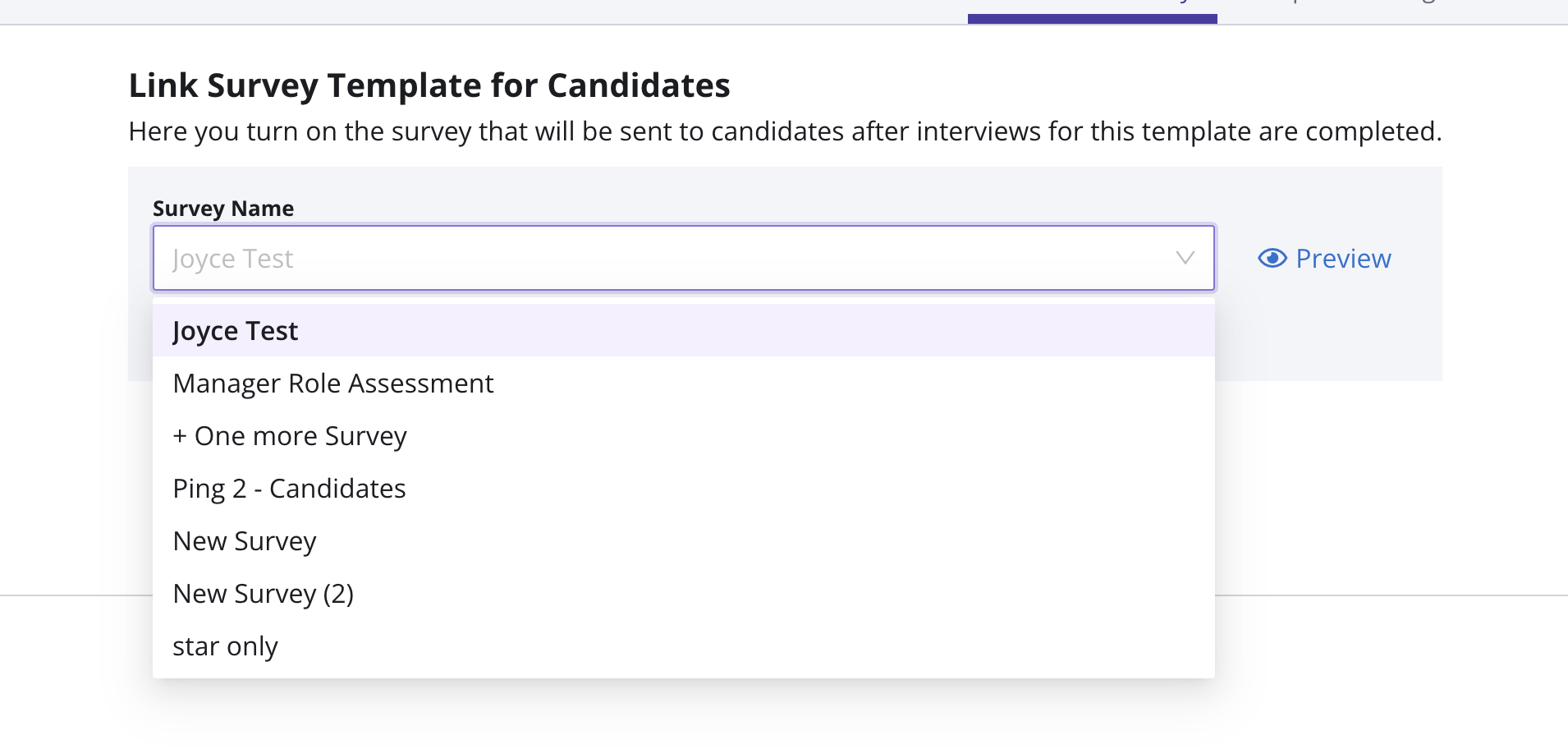 - After a candidate successfully completes the interview loop for any template that has a linked survey they will immediately receive the survey via email.
- If the candidate does not submit feedback, they will be sent a reminder email 3 days after to remind them to provide feedback on their interview. the reminder email will only be sent once.
- Shown below is an example of the Candidate Pulse survey invite a candidate will receive: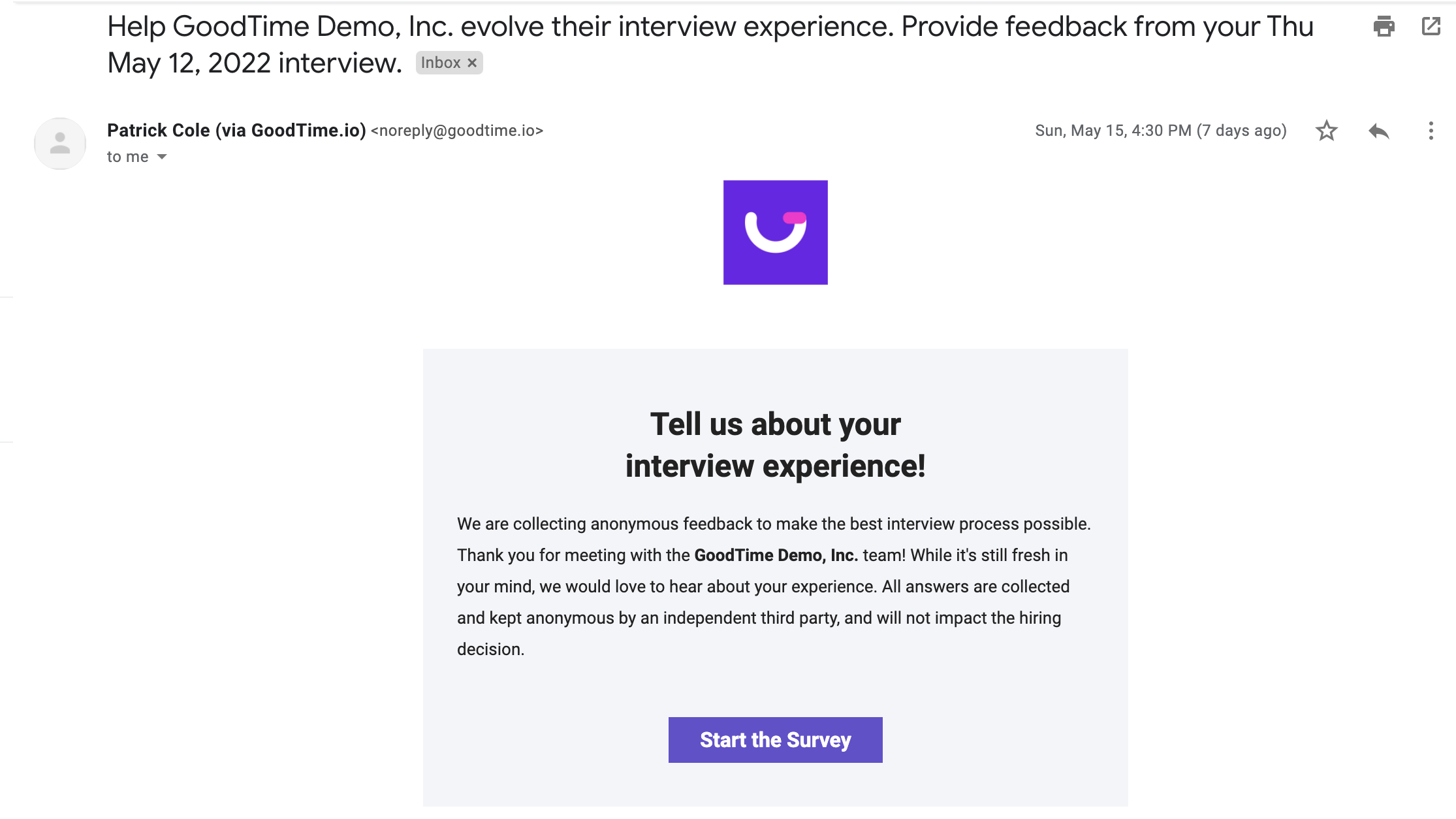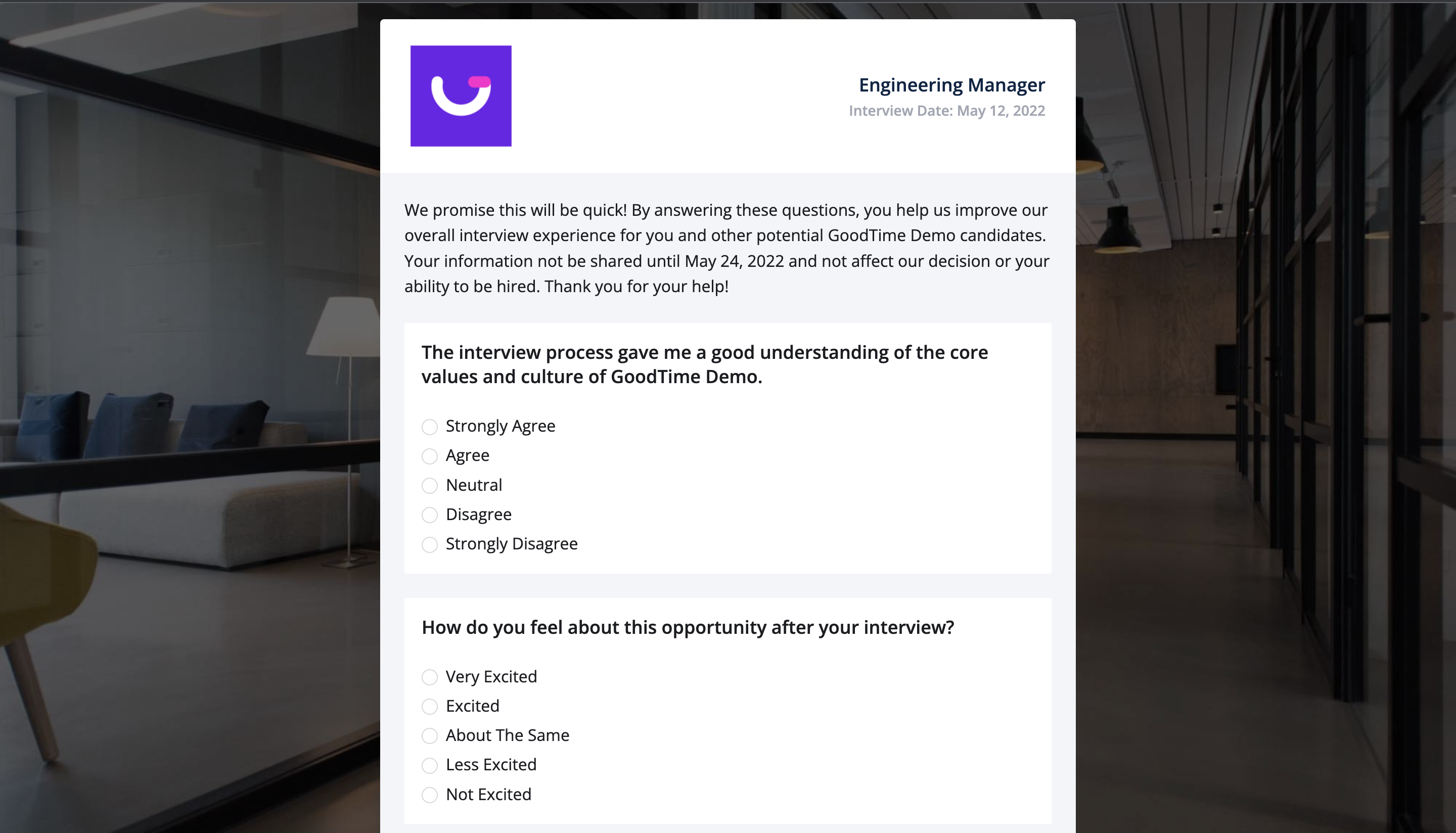 4. Download and Analyze Data
4a. To download survey data, you can do this by going to Insights > Candidate Surveys and click 'Request Download'. Refresh the page and you can then download your survey results in a .csv file.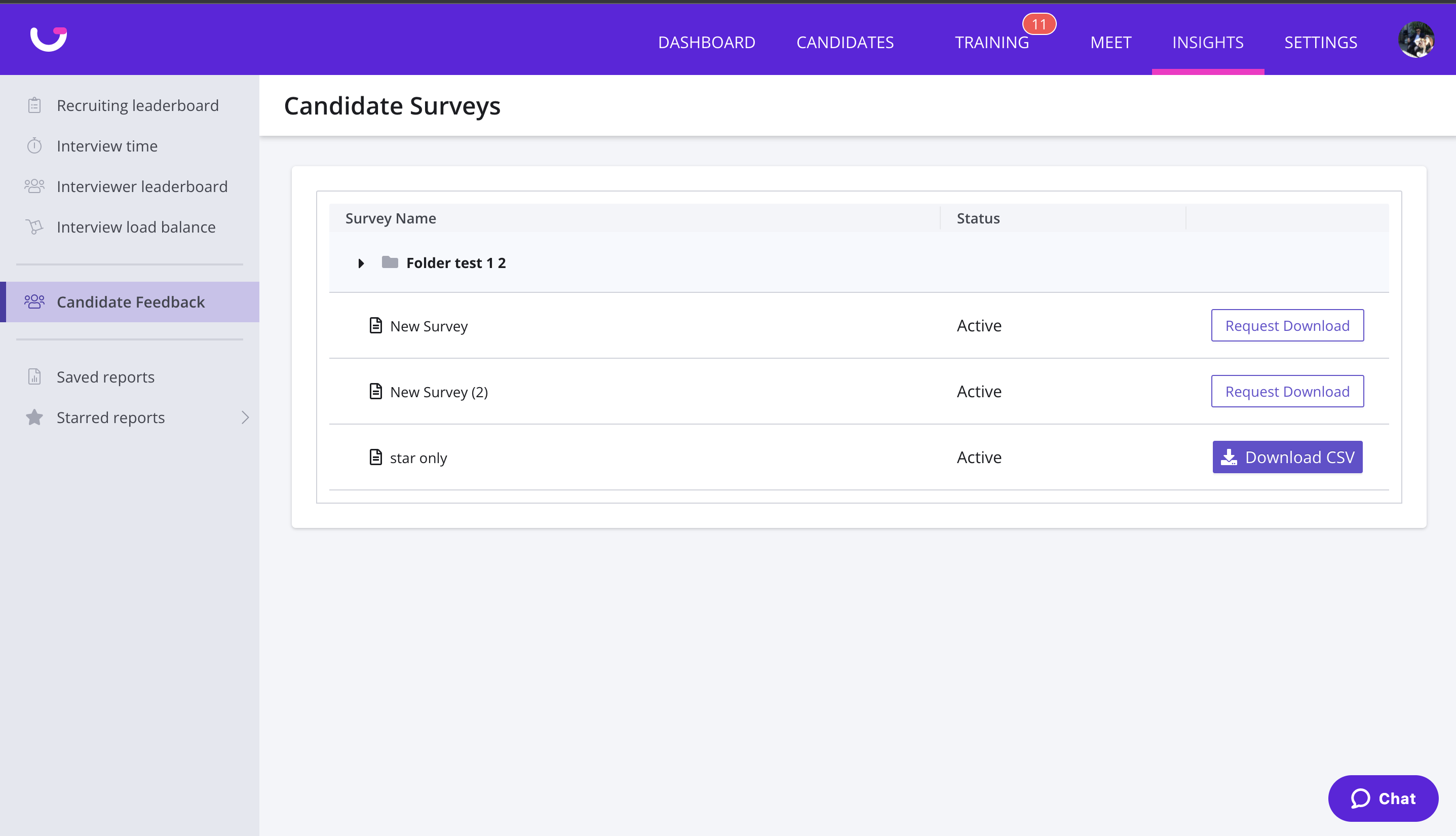 *Note that the "Candidate Feedback" option shown here will change to "Candidate Surveys" in an upcoming update.

- GoodTime takes candidate privacy seriously and as such, all surveys sent use a double blind anonymization process; that is we will not only remove candidate names from any feedback provided but will also implement an embargo period of ~30 days.
- Candidate feedback will not be shared with anyone until the embargo period is complete. The embargo period is ~30 days from submission (it is random, and some results will be a few days before 30 days, while some will be a few days after 30 days to ensure anonymity).
- The downloaded data will make no reference to the candidate who submitted it. Using a clear naming convention will assist in helping you to identify the specific interview or base template which the received responses relate to.
- When you have collected multiple months of data you will be in a position to assess changes of candidate sentiment as it relates to the linked interview or base template (nothing that all data will reference interviews tat occurred ~30 days prior)
- Example of Candidate Pulse reporting export:

Frequently Asked Questions:
How many surveys can we create?
You can create as many surveys as you want. You have the ability to customize the order of your questions and choose which questions the survey will contain.


Can we create custom questions?
At this time we do not offer the option to create custom questions, but offer a pool of questions you can select from. If you are interested in having a new question added to our pool of questions, please submit this in ProductBoard or you can email the Product team directly at productfeedback@goodtime.io.


Can we customize the embargo period?
At this time we do not offer a custom embargo period. The embargo period for all surveys will be ~30 days from the candidate's submission (we randomize the embargo period where it might be slightly shorter/longer than 30 days to ensure all submissions are anonymous).


Why are the .csv reports I download empty with no results?
You will only be able to access candidate feedback after the embargo period has completed. If you know candidates have submitted feedback but cannot see it inside the .csv, the results are still waiting for the embargo period to complete for this data to be in the .csv reports.


Can the survey emails and email reminders be customized?


At this time we do not offer a way to customize the emails

. The emails contain branding and the initial survey will be delivered immediately after the candidate finishes the interview (based on the end time of the interview), and the reminder email will be sent to candidates if they have not provided feedback 3 days after the interview.


Can we add surveys on Base templates?
Yes, you can save a candidate survey at the base template level. This will allow all newly created interview templates to automatically have the survey attached. It may also be valuable if you wanted to establish an ongoing process of assessing 'top of funnel' interview processes by establishing a standard Candidate pulse survey for all Hiring manager or Recruiter screen interviews for instance.


Can we download all survey results into one .csv file?


No, you can only download individual survey results at this time and not at an aggregate level at this time.
Known Issues:
1. You need to click Cancel after saving a survey to get back to the list of surveys. If a Save has been done, nothing will be Cancelled. This will be addressed in an upcoming update with new buttons.