TL;DR: It may sometimes occur that candidate invites/emails sent by GoodTime may land in a candidates SPAM/Promotions folder. While GoodTime takes all available steps to ensure the emails we send on your behalf do not get routed to SPAM/Promotions this may still occur based on a candidates own email filters or the 'reputation' of your own domain. If you begin to see emails routing to SPAM/promotions there are also some initial 'best practices' you can follow to try and minimize this occurrence.


Ways to minimize emails landing in SPAM/Promotions:
If you are seeing this issue you may want to try the following steps:
Minimize the number of links included in your GoodTime emails;

Where appropriate, 'fatten' the body of the email to increase the HTML to text ratio;

Avoid using emoji's (particularly in the subject line);

Personalize the message (use $candidate.name variables) to increase likelihood SPAM filters will recognize it as a personalized email and not a mass-mailed email;

Avoid the use of 'too casual' a tone (replace "Hello from [company]!" with "Interview request from [company]")

Avoid using keywords in your subject like that can be confused as a promotions text ("opportunity", "congratulations", "excited", etc.)
Gmail and other mail providers do not share how they sort emails and what qualifies as "spam" or "promotion." It could be because most of the emails from that domain are promotions, it could be something in the content of the messages itself gets it flagged as a promotion. We've done research about how to get out of the SPAM/ Promotions folder and found advice that mentioned minimizing the number of links, HTML to text ratio, graphics, and the footer, as well as improving email service provider sender reputation, and personalizing the email subject line. None of it is actually guaranteed to land an email in the primary inbox tab though. Most of those suggestions are conventional wisdom that are based on triggers that cause SpamAssassin to flag things as SPAM.

How do I know if a candidates emails land in SPAM/promotions?
Using the GoodTime 'EMAIL COMMUNICATION' section within the event side panel you can track when emails have been sent by GoodTime to your candidates. The email communication section can provide you a clear indication regarding when a candidate has received an email but it may have landed in their SPAM/Promotions folder. The following image indicates that the request availability invite have been emailed and delivered but not opened by the candidate. The assumption therefore is that this email may be in their SPAM/Promotions folder. We recommend emailing the candidate outside of GoodTime in these circumstances to ask them to check their SPAM/Promotions folder.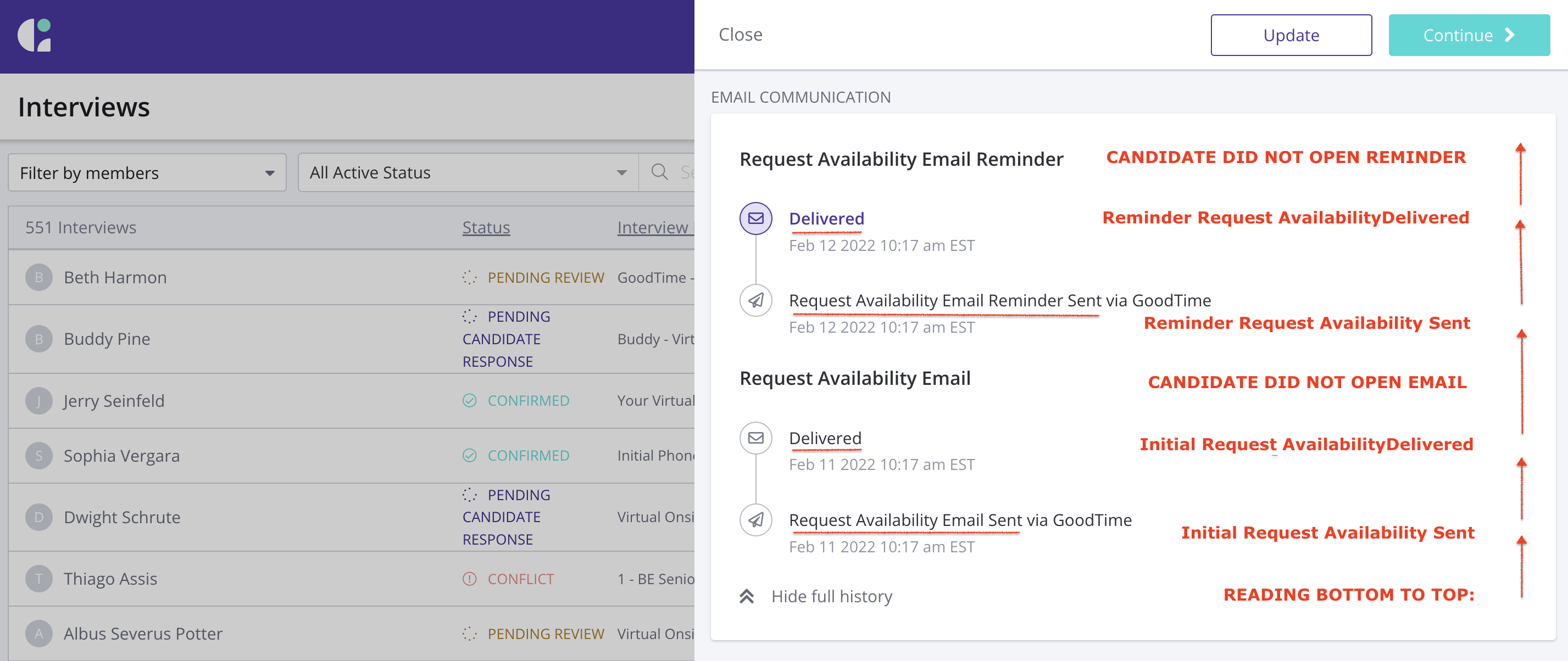 Note: When a candidate does identify GoodTime emails that have gone to SPAM/Promotions please ask that candidates to mark these emails as "Not Marketing" to train their email clients search algorithm.