Your Talent Team has partnered with GoodTime to optimize its hiring and recruiting process.
GoodTime is an interview logistics platform that automates interview scheduling. GoodTime works by integrating with your company's calendar system to identify interviewers' availability for the candidate to schedule their interviews.
Check out our blog on why your company has invested in GoodTime
Listen to a current customer explain the benefits they receive through using GoodTime

Watch a 15 minute demo of the GoodTime platform here:
What Does This Mean for Recruiters, Coordinators, and Sourcers?
For Coordinators:
Interview scheduling involves a lot of calendar manipulation and back-and-forth with candidates. With GoodTime, you can easily:
See all interviewers' availability, including soft & hard conflicts.
Load balance interviewers.
Get insights on your interview process with Interview Metrics.
See which interviewers keep canceling interviews and with how much lead-time as well as which interviewers are going above and beyond.
Create templates to help save you time.
Increase your pool of interviewers by setting up interview shadowing using Interviewer Training.
For Recruiters and Sourcers:
Sourcing candidates can be difficult, especially with the back-and-forth for availability that often ensues. GoodTime Meet makes that easy by enabling you to create one static link that different candidates can schedule interviews through. The link automatically syncs with your calendar's real-time availability!
What Does This Mean for Our Candidates?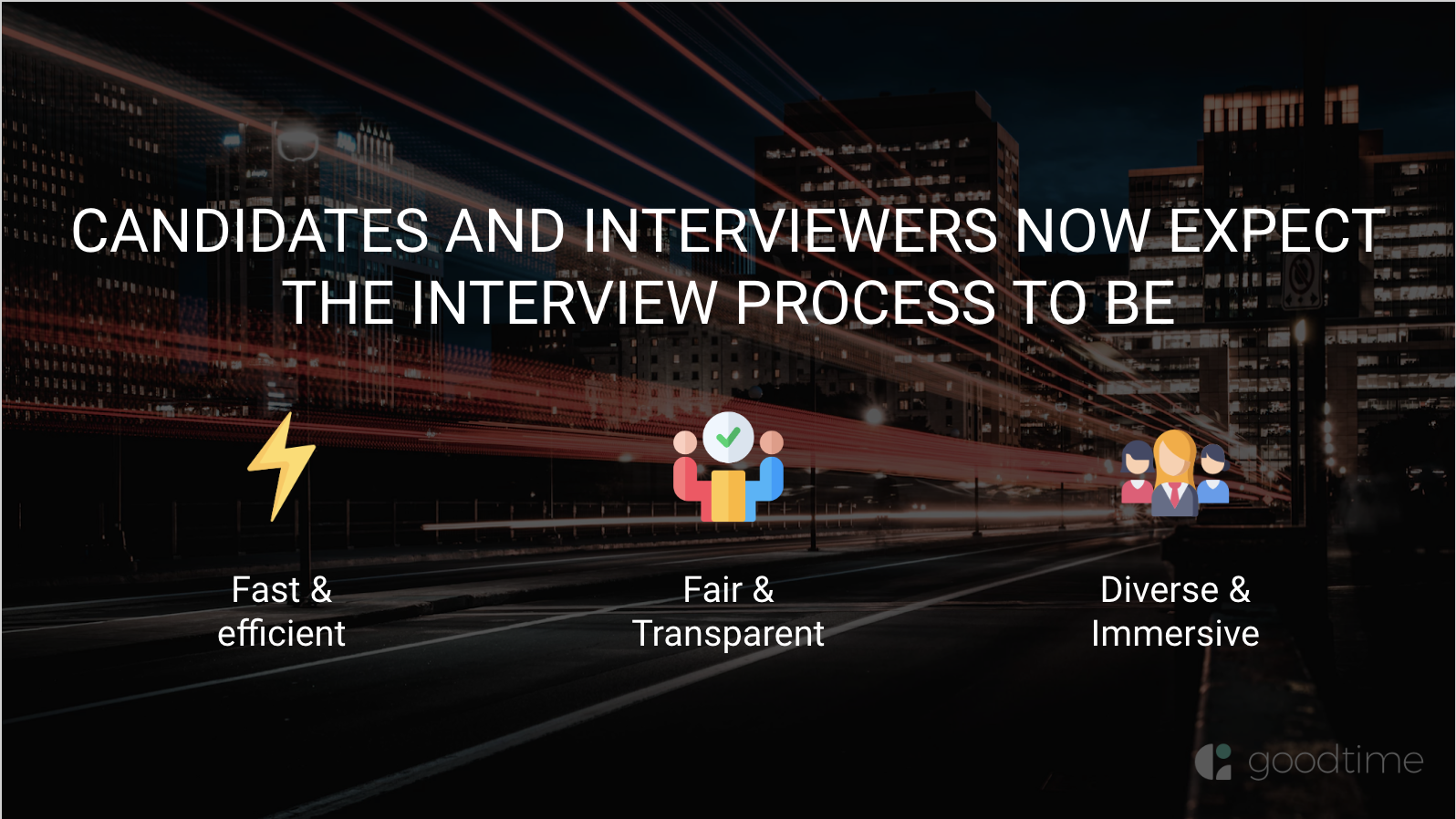 GoodTime will help your company exceed these expectations through our best in class interview logistics platform.
How is This Going to Impact Our Interviewers?
GoodTime will automatically balance their weekly interview load.
No more Email/Slack back and forth between Coordinators and Interviewers.
Interviewer training enables all employees to become interviewers.
Reduced context switching during their week so they have more time to focus on interviews as well as their normal duties.
Check out the GoodTime Blog: "Hiring Managers Love GoodTime...Here's Why!"