TL;DR: In addition to their 'routine' hiring processes, many companies also host 'Interview Day' or 'Superday' hiring events. These Interview Day events are typically conducted to support the mass interviewing of candidates for things such as University/Intern hiring, Seasonal or warehouse worker hiring events or for any time you need to quickly interview, and hire, a large quantity of candidates.

To support these specific types of 'Interview Day' hiring events GoodTime has recently released a dedicated feature for High Volume and HIRE customers* to help streamline their Interview Day hiring events! No more manual tracking in spreadsheets and sending individual emails to candidates - let us help supercharge your interview day scheduling!

The following video from our October 2023 Product Webinar provides an overview of the Interview Day feature. Please read below the video for further explanation of how to best use this feature.
How do I Access the Interview Day Feature?
*The Interview Day scheduling feature is currently available on High Volume Professional and Enterprise packages and all HIRE Enterprise packages.
If you are not on one of these packages listed above but would like to trial this feature or upgrade your GoodTime package in order to access it please speak to your Customer Success Manager.

What is an 'Interview Day' anyway?
The Interview Day feature is specifically designed to support a type of hiring event where you dedicate a set period of time for a pool of interviewers to interview a large group of candidates in a round-robin style hiring event. The key components of an interview day are as follows:
A Set Time Frame:
- Unlike standard interviews where you will accommodate the candidates schedule, an Interview Day typically involves dictating to candidates a specific time frame in which all interviews will be conducted. (For Example: "All interviews for the Winter Intern positions will take place on Thursday and Friday between 12:00 and 4:00pm EST.")
- It is common for Interview Day events to occur seasonally in support of routine intern/university hiring or to support the hiring of seasonal workers.
A Dedicated Interviewer Pool:
- Interview Days will typically involve a pre-defined set of interviewers who have been trained to interview for the specific role. These interviewers would have also intentionally cleared their calendars on the date of the Interview Day to support this hiring event.
- It is also common for a company to conduct specific training for these interviewers in advance of an Interview day hiring event in order to ensure all interviewers are aligned on the expectations of them and are clear how to assess a candidates suitability against a common hiring fro this role rubrik.
- For interview day scheduling GoodTime does NOT review availability within any interviewer's calendar. It is assumed that all interviewers support this hiring event will have cleared their calendar as this is their only priority on this date.
Available Candidates To Interview:
- As indicated above, Interview Day hiring events typically provide candidates a specific window in which they can interview.
- It is common that an Interview Day event has also been paired with a dedicated employment marketing campaign where your sourcing team may have intentionally advertised for the upcoming Interview Day to attract and pre-qualify as many candidates as possible before your Interview Day occurs.

How do I setup an Interview Day schedule?
1. Build Your Interview Day Structure
- Think of this first step as setting the overall structure at your company level around when this Interview Day event will take place.
- Name the Interview Day for easy reference in your GT dashboard.
- Link the Interview Day to an existing role within you ATS (to allow for scorecards to be automatically linked by GT to your interviewer's calendar invites)
- Set the date and time of your interview Day.
- You can also set specific time ranges, such as for a morning or afternoon interview block.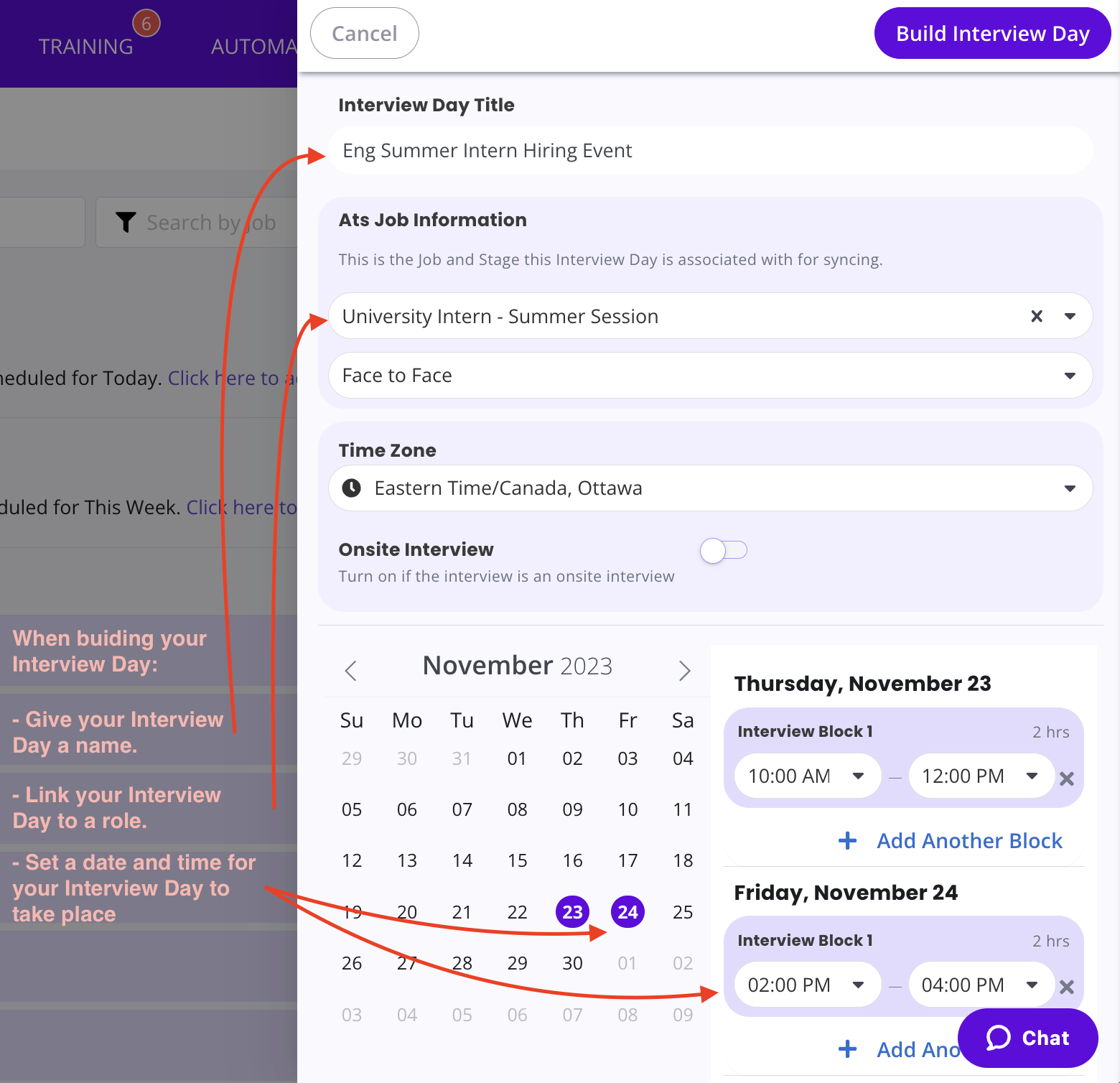 2. Create Your Interview Panel and Assign Interviewers
- The next step is to identify the specific structure of your Interview Day's panel. It is useful to think of this from the perspective of what skills you want to test your candidate's against.
- You can create multiple interview events for your candidates to attend. (For example: A 1.5 hour Engineering intern interview may consist of a 30 minute culture interview with someone from the recruiting or people team to understand the candidates motivation; A 30 minute technical assessment with someone from the engineering team, and a final 30 minute interview with someone from the engineering leadership discussing the candidates engineering wins and favourite past projects. This is a 2 hour interview broken into 3 separate events led by specific team members).
- It is recommended that you offer clear interview event titles to help your interviewers understand what they will be assessing candidates for.
- Once your panel is established you can assign specific interviewers and GoodTime will automatically start to build out a round-robin matrix for you that will allow for candidates to be scheduled to meet with each of your listed interviewers in order to be assessed against each interview event criteria.
- You are also able to add additional interviewer groups in order to increase the quantity of candidates you are able to interview at the same Interview Day event.
- When building your Interview Panel it is often useful to think of this from the Candidates perspective also as this defines the interview experience these candidates will have with your organization.
- NOTE: You are also able to add breaks between your interview events if you wish.
- NOTE: It is also possible to create your Interview day panel without assigning interviewers. This allows for you to start collecting Candiate availability immediately while you finalize details of the interviewing team.
- UPDATE OCT 2023: It is also possible to build your interview day to reflect an onsite location (either custom defined or pulled from your company-level locations).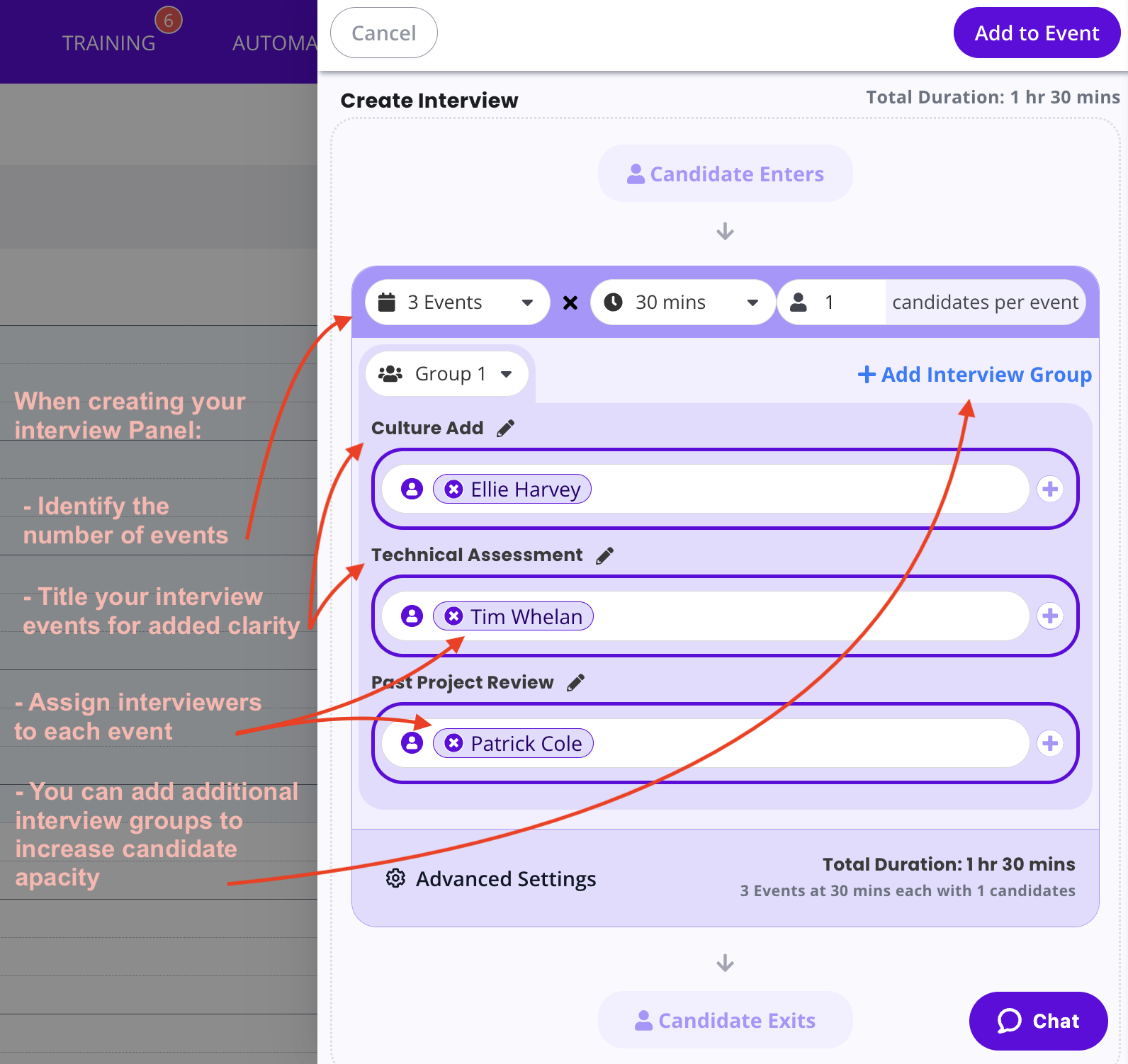 3. Invite you Candidates to Book an Interview Time.
- Once you have your Interview Day structure and panel established you are in a position to start inviting candidates to book times to meet with your interviewers.
- While you will have pre-set interview dates and times (as this is the nature of an Interview Day / Superday hiring event) you can still leverage GoodTime's Request availability and Scheduling automation in order to streamline both the collection of candiate availability and the scheduling of interview events into your candiate and interviewers calendars.
- By clicking on 'Add Candidate +' button you are able to see all of the candidates associated with you linked job posting and start to reach out to them to book time for your Interview Day event.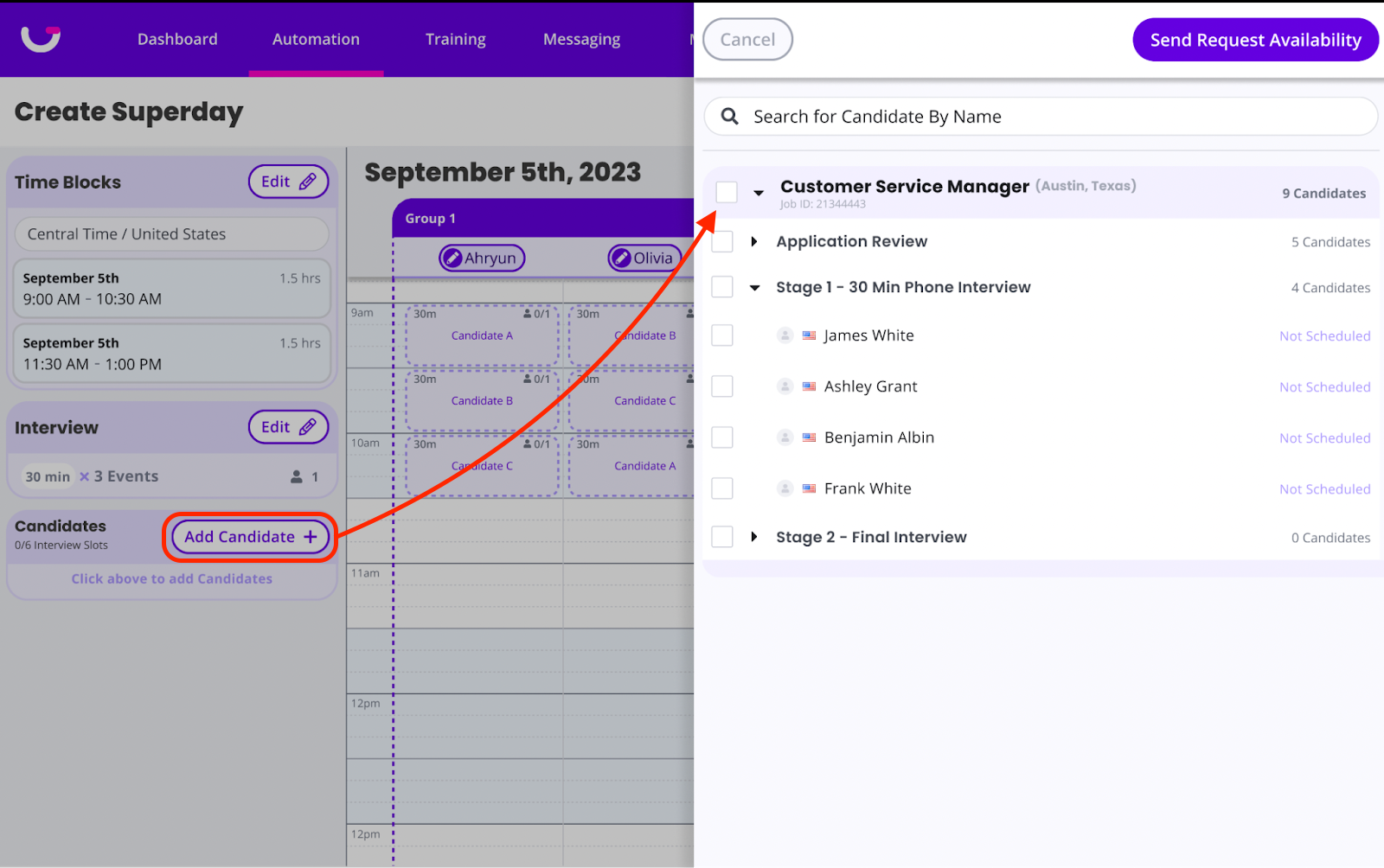 - Having selected your candidates you can move forward into the standard GoodTime Request Availability workflow and:
a. -- Select an email template to use (and personalize the text for this request if you wish);
b. -- Confirm/Add feedback forms to be shared with your interviewers at the time of the interview;
c. -- Create/Customize both your candiate facing and interviewer calendar events;
d. -- Hit the 'Request Availability' button and send your Interview Day invite to your candidates.
- NOTE: All candidates who have been schedule via GoodTime will include their GoodTime status so that you can identify who you need to reach out to and who may have already been scheduled
- NOTE: The Interview Day feature uses the existing GoodTime 'Request Availability' workflow meaning that your candiate's experience is identical across the whole GoodTime platform, and you are also able to leverage all of GoodTime's existing RA features.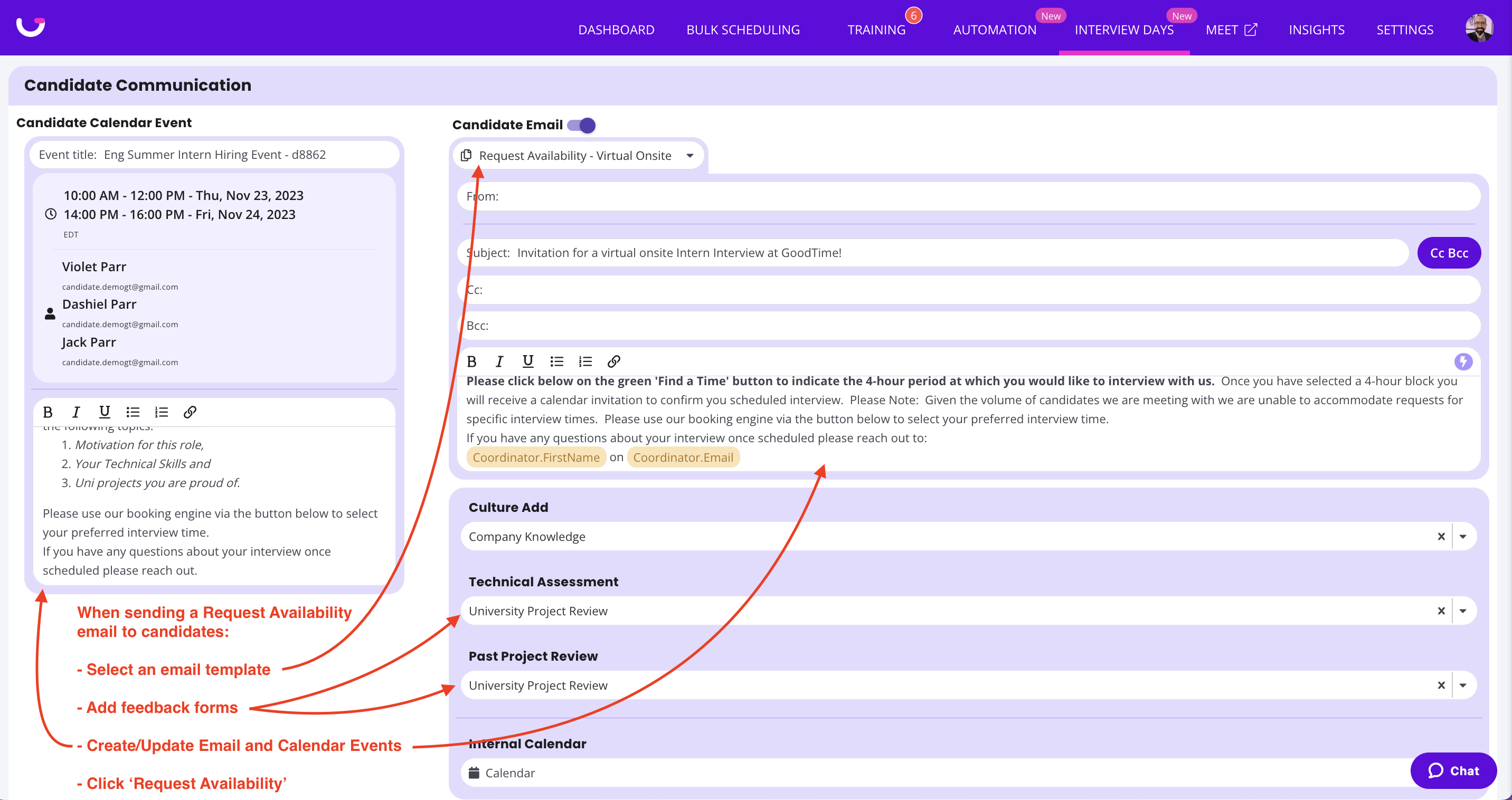 4. Management of Interview Day Events.
- Once activated you can access your Interview Day events from the 'Interview Days' tab in the GoodTime menu bar.
- You can see all active hiring events listed chronologically and are able to click on any individual Interview Day to view the candidates associated with that Interview Day as well as the status of each candidate.
- Clicking on the pencil at the far right of each Interview Day allows for you to edit specific details associated with that event, including adjusting interviewers, adding or removing candidates and updating the Time blocks and Interview panel structure.