TL;DR:
Another key feature of GodTime High Volume is the ability to send a static URL scheduling link that connects directly to a role in your ATS directly. The real power of this static scheduling link is that it allows you to have a prospect (who is not in your ATS) book a time to meet in relation to a specific role. Because these Static URL scheduling links are connected to an existing role in your ATS, this also allows for them to push the details of the event scheduled back to your ATS. ...and if you area Greenhouse customer and reach out to a prospect who is not currently in your ATS, GoodTime static links can automatically create a candidate profile in the ATS on your behalf!


How do I use this feature?
1. BUILD A TEMPLATE
- Navigate to the Automation > Scheduling Links section within GoodTime,
- Create a template that is linked to a Job and Stage in your ATS,
- Select the interview duration,
- Select if the interview is onsite or remote,
- Add details of the interviewer(s) associated with this interview,
- Add an associated feedback form (pulled form your ATS),
Optional: Within the 'Advanced settings' section.
- Customize the text of the calendar invitation,
- Adjust the availability window that this link will share,
- You can even customize the text of your booking link!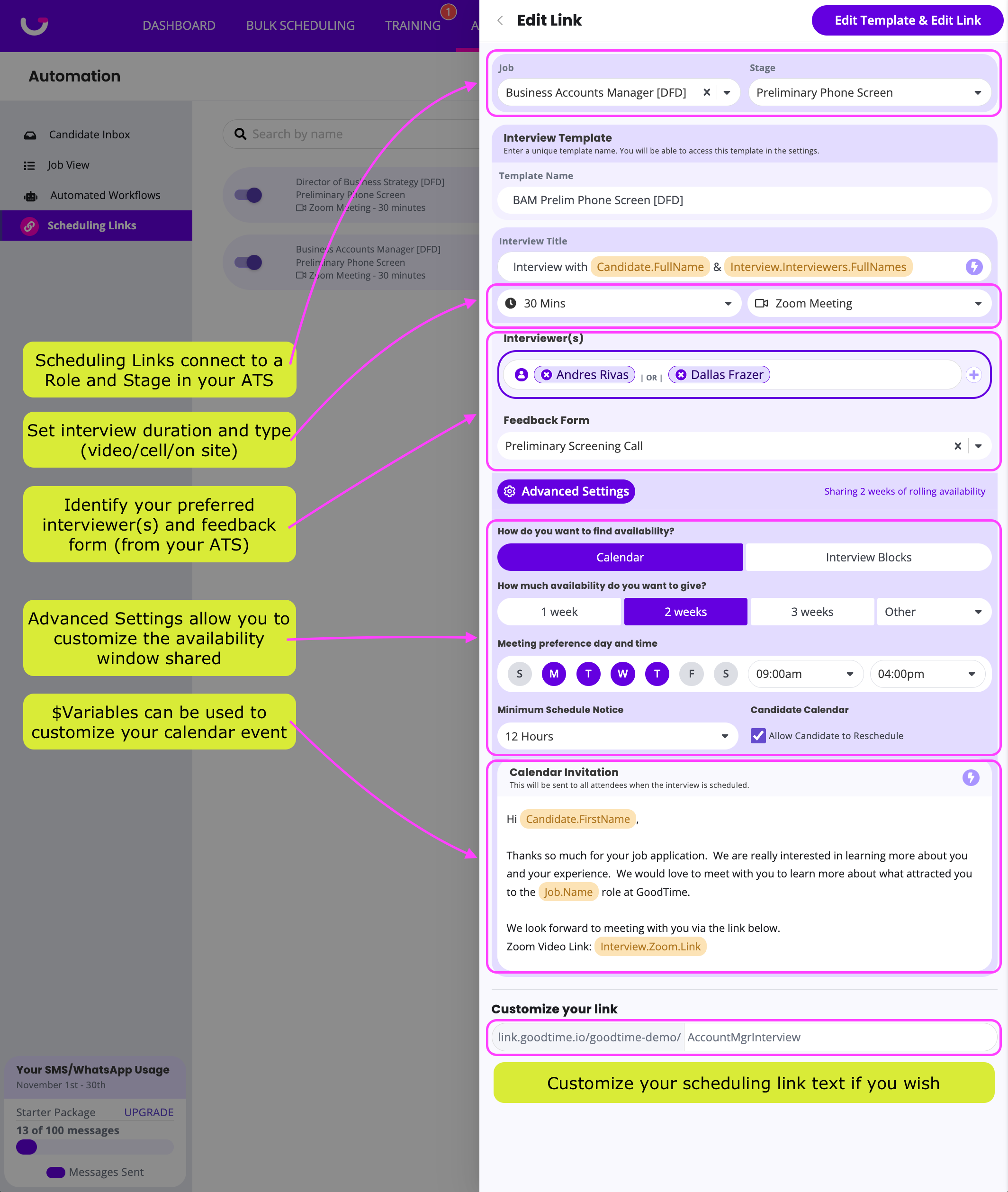 1. SHARE A LINK
- Once you have created a scheduling link, now its time to share it!
- These scheduling links can be shared outside of GoodTime via email's, InMail, personal text messages etc. Anyone who receive this link and schedules through it will have details of their interview pushed back to their candiate profile in your ATS (WD and GH only). If the recipient of this link does not have a candidate profile in your ATS, we can automatically generate it if they book via your link. This feature makes static scheduling links especially good for streamlining your sourcing workflows.
- Scheduling Links take advantage of GoodTime's proven Request Availability workflow which allow for candidates and prospects to quickly share and automatically book an interview based on dates and times that work for them (and your own team). Scheduling links also take advantage of your existing employer branding from within your GoodTime account.


How do I access this feature?
- All GoodTime HIRE customers have access to a free version of Scheduling inks' within your GoodTime account. This free version allows for every GoodTime user to create a single Scheduling Link.
- If you would like to access more than a single Scheduling Link you are able to purchase individual user seats of the High Volume product to increase your access to all High Volume features. Details of the High Volume product offerings are linked here.
- If you are a Greenhouse user and you wish to take advantage of the ability for scheduling links to automatically create a candidate profile on your behalf, you will need to have your Greenhouse Admin update your API Key to allow GoodTime the permission to automatically create candidate profiles on your behalf. The two API permissions that need to be added are; Post: Add Candidate and Post: Add Application.





Scheduling Links - Oct Update