1. If you are experiencing an issue with an interview that has been created (regardless of the status), please send:
Interview URL - open the interview in GoodTime and copy the URL in the address bar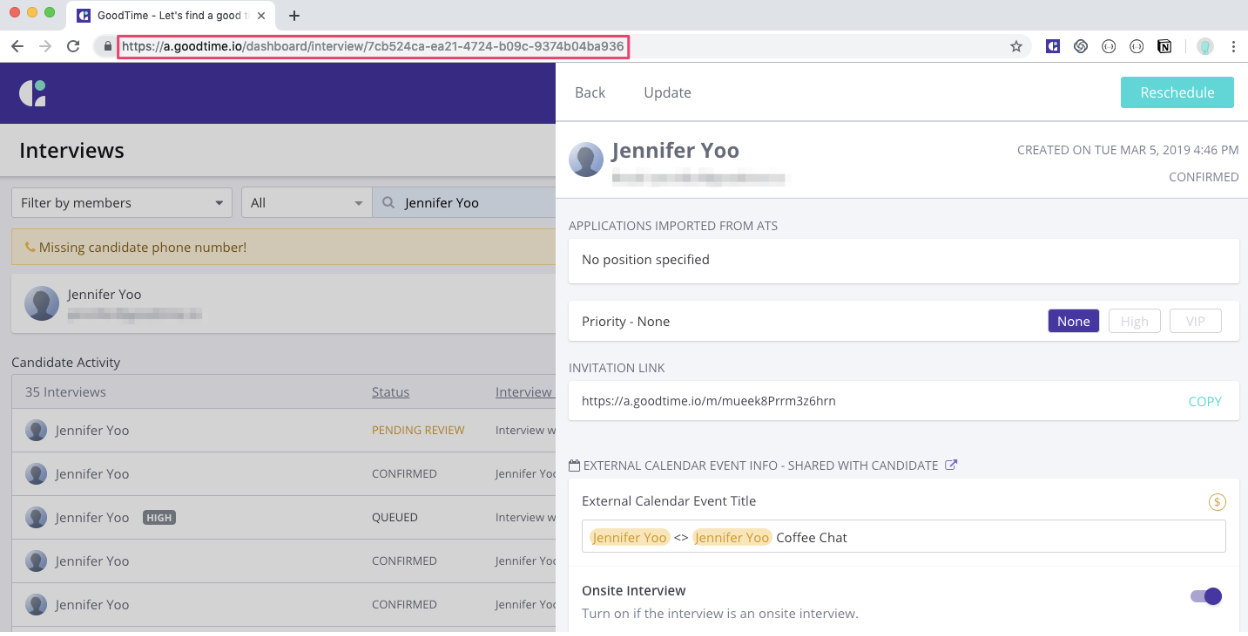 A clear description of the problem

If applicable, screenshots of your ATS, calendar, or other integrations that we cannot access to help us understand the full scope of the problem
Note: Even if the support request applies to multiple interviews, please send us at least one interview URL as an example.
2. If you are experiencing an issue during the scheduling process but the interview has not been created yet, please send:
Candidate name and email

Interview template name (and any modifications you made to the panel events or interviewers)

Date/Time range
Tip: Screenshots are typically the easiest way to send over all of the details we need to recreate the interview and troubleshoot.
Note: If you have not created the interview (clicked "Schedule Now", "Request Availability", or "Hold"), the URL will direct us to the main dashboard - please send the above details instead.
3. If you are experiencing a broader issue that is not associated with any specific interviews, please provide as many of the following details as you can:
Who - Is the issue impacting the coordinator, interviewer, or candidate? Are you the only user experiencing the issue, or other users as well?

What/Where - Please provide a clear description of what the issue is and where you are seeing it (Which section of the product are you in? Which feature are you using?)

When - Are you currently experiencing the issue? If it happened in the past, was it a one-time or recurring problem?

Why - If you have a question about GoodTime features, please explain why you would like to see a certain feature and how it would help your process to help us best address your request!
More information here: 24/7 Support