GoodTime Calendar Management
GoodTime has the ability to read your calendar and find availability to schedule interviews. It does this by presenting only the "open space" calendar options (i.e. no conflicting calendar events) to the candidate.
In order to optimize your calendar and allow for maximum "open spaces", please apply the below calendar best practices to your calendar management.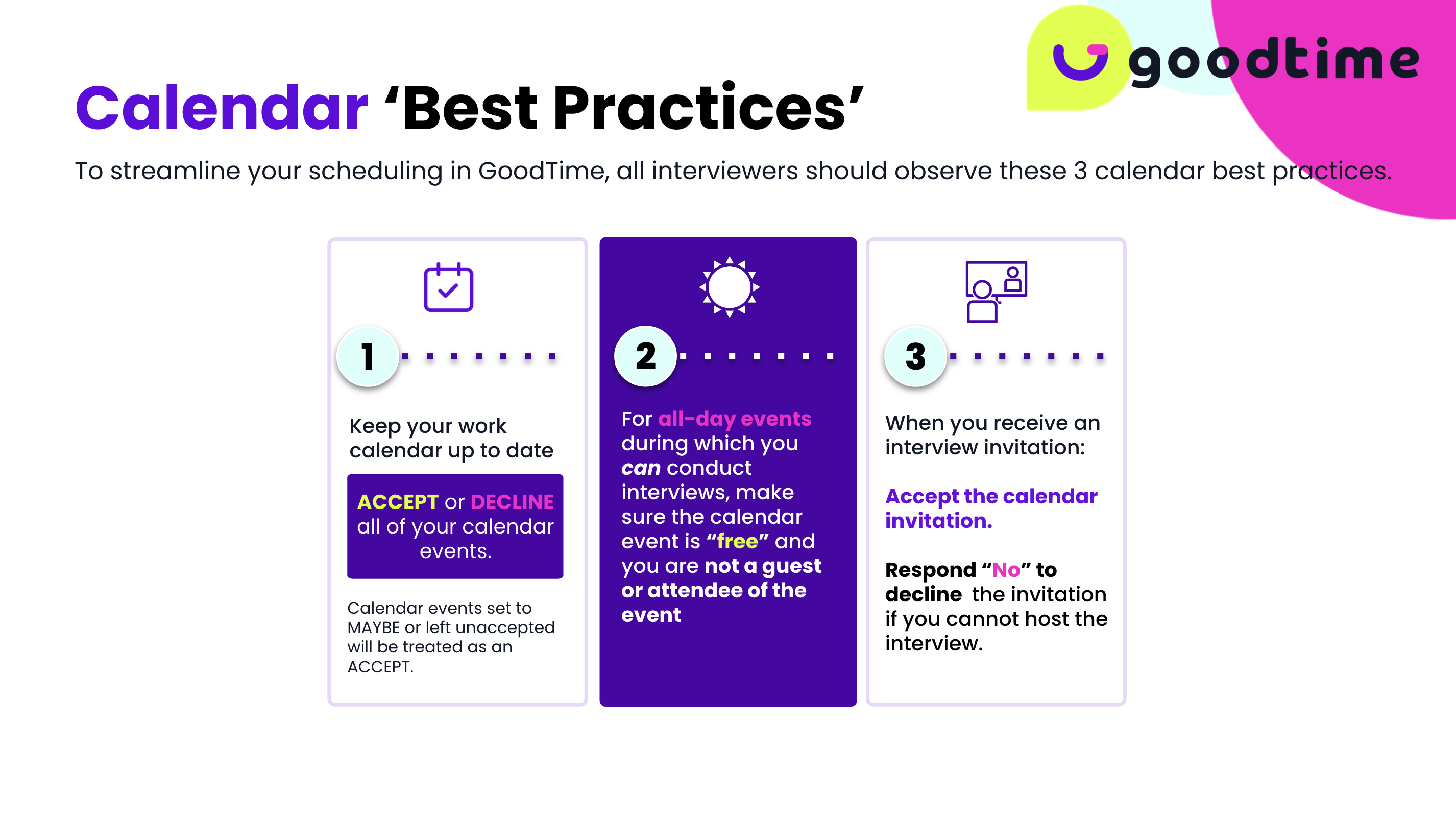 Calendar Best Practices
Managing Your Calendar
Always keep your calendar up to date with your PTO, OOO, or Vacation dates.

Do not accept your team members' PTO all-day events (Accepting the event will mark you as busy).

If you are traveling and/or have offsite meetings, add your flight or transportation details to your calendar to block off time you will be on the road and unable to take interviews.

If you are ending the day early for an event, mark the event and time needed for travel.

If necessary, use time buffers for downtime between meetings to avoid running late to meetings.

Cancel/remove meetings or events that have been canceled from your calendar.

Decline calendar invites that you are not attending (do not answer "Maybe" or leave unanswered).
Creating Events in Your Calendar
If your meeting is not mandatory for all to attend (e.g. lunch and learns, standups, etc.) mark the event as "free" or mark individual attendees optional. Free events will be considered "open space" when GoodTime is looking for scheduling solutions.

Consider using a separate calendar for reminders or to-do lists, if you are not reserving a set time to complete these tasks.

If possible, consider marking some events on your calendar as "public" vs. "private" to support the Recruiting team's efforts to schedule candidates in a timely manner.
NOTE: By default O365 calendars are set to 'private'. While GoodTime is still able to distinguish between "open space" and busy events in your calendar we are unable to make soft conflict recommendations or allow you to leverage transparent keywords unless all calendars are set to "public". As per the recommendations above, promoting solid calendar hygiene across your organization is the best way to streamline your scheduling processes.