With the Custom Itinerary feature, you will be able to customize the detailed itinerary shared with candidates and interviewers in candidate/interviewer calendar events and emails.
Users can customize the itinerary on an organization level, interview (scheduling) level, or at the template/master template level.
When scheduling, you'll be able to edit the itinerary details from the Confirmation Page: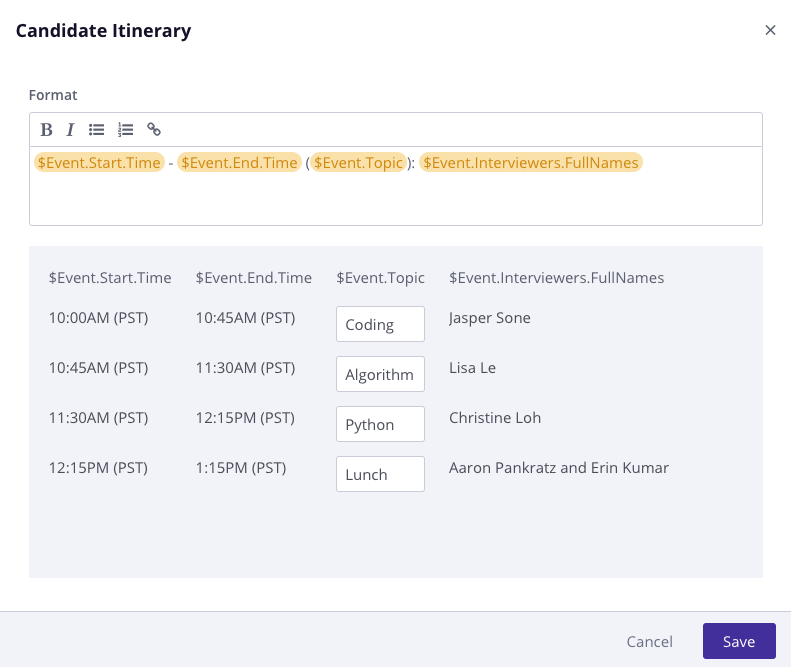 The candidate's view will appear as follows: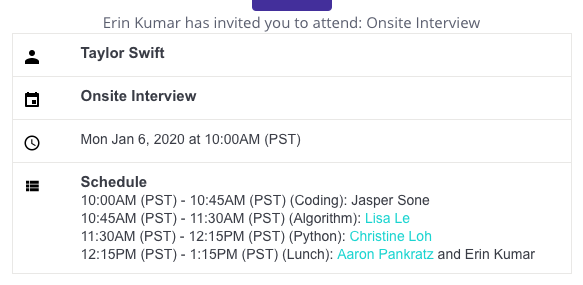 To edit at the template level:

In GoodTime, go to Settings -> Template

Select the Template in Question

Choose Template Settings

Under "share itinerary with candidate" select the pencil icon

Update the Open Field for $Event.Topic

This will automate all future itineraries created when using this template
Additional Notes:

$Event.Topic is a variable specific to custom itinerary. You are able to include this in either the interviewer calendar OR the candidate facing calendar, or both!
If $Event.Topic is added to both calendar itineraries, the focus area / competency will remain the same. We are not currently able to display and internal event topic and an external event topic.
You're able to edit a custom itinerary on the fly, from the confirmation page. This can be done under the interview Panel before clicking the final "Request Availability" or "Schedule Now" in your workflow
Once an itinerary is shared with a candidate / interviewer, we are unable to edit the Focus Area again unless the interview is rescheduled.