TL;DR: If you are hiring for a high volume role, or you just want to send out multiple Request Availability invites at the same time, you may find the "Bulk Scheduling" feature useful. Common use cases for this feature are:
Recruiters wanting to send out phone screen invites in bulk (to multiple candidates at once);
Recruiting Coordinators wanting to send out multiple hiring manager screen invites at once; or
Scheduling for any high volume role that has a well established and tagged interviewer pool; roles such as Customer Success, Sales, University Recruiting/Intern hiring.
GoodTime Bulk Scheduling Tab
GoodTime's "Bulk Scheduling" Tab offers a direct sync to your ATS to allow you to bulk contact. GoodTime users are able to search by job name (as it appears in your ATS) to receive a list of all active candidates by stage. For example, if searching for "Full Stack Engineer", GoodTime will automatically pull any candidate/job stage aligned with the Full Stack Engineer Role in Greenhouse.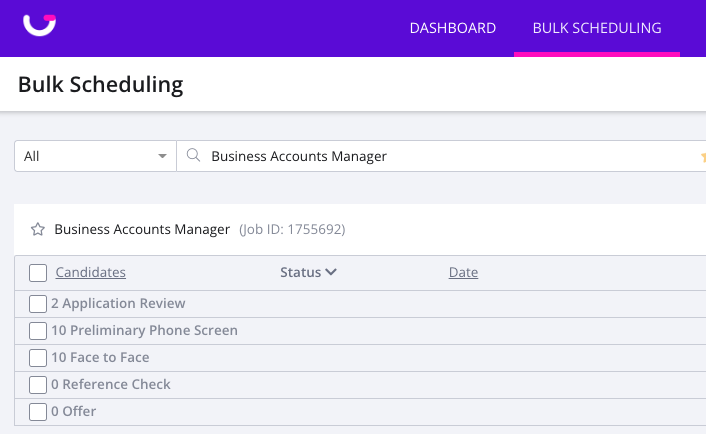 To search within the Bulk Scheduling tab:
1. Log in to goodtime.io
2. Select "BULK SCHEDULING" from the purple banner at the top of the page
3. Use the search bar to search for the job name
a. Use the Drop down menu next to the search bar to filter by Candidate Status. Please note that these statuses will only apply if the candidate has been scheduled via GoodTime. If the candidate has been scheduled via your ATS, they will show as "Not Scheduled" within GoodTime.
4. Select the checkbox next to the job stage you need to action (e.g. Video Interview)
How to Bulk Contact
After selecting the job stage (e.g. On-site Interview), select a check box next to all candidates you'd like to contact: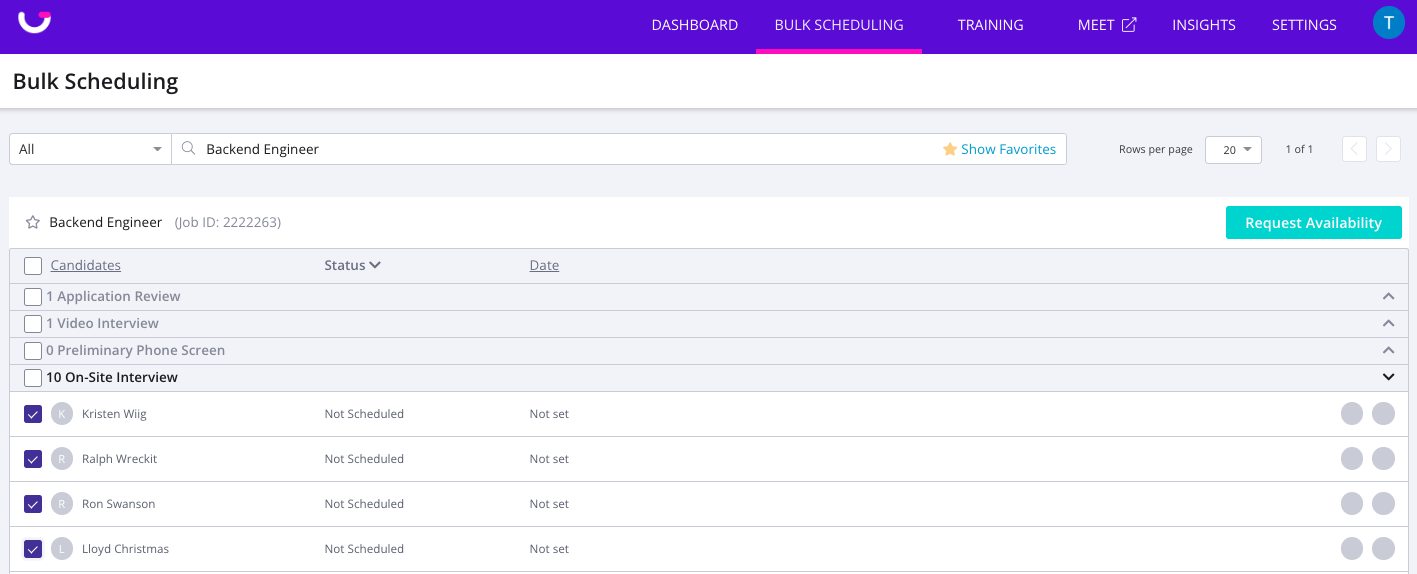 NOTE: Bulk Contacting will only offer the option to Request Availability.
In the example shown below, the candidates Diana Prince, Sandy Bluee, and Brenda Song will all receive a standardized email asking them to provide times they're available to interview.

Once candidates select their times, GoodTime will then go through the regular workflow.

If "Require review before confirming schedule" is ON, the candidate status will come back as "Pending Review" and the scheduler will have to confirm the interview.

If "Require review before confirming schedule" is OFF, GoodTime will auto-generate the interview calendar invites based on the interviewer's earliest availability.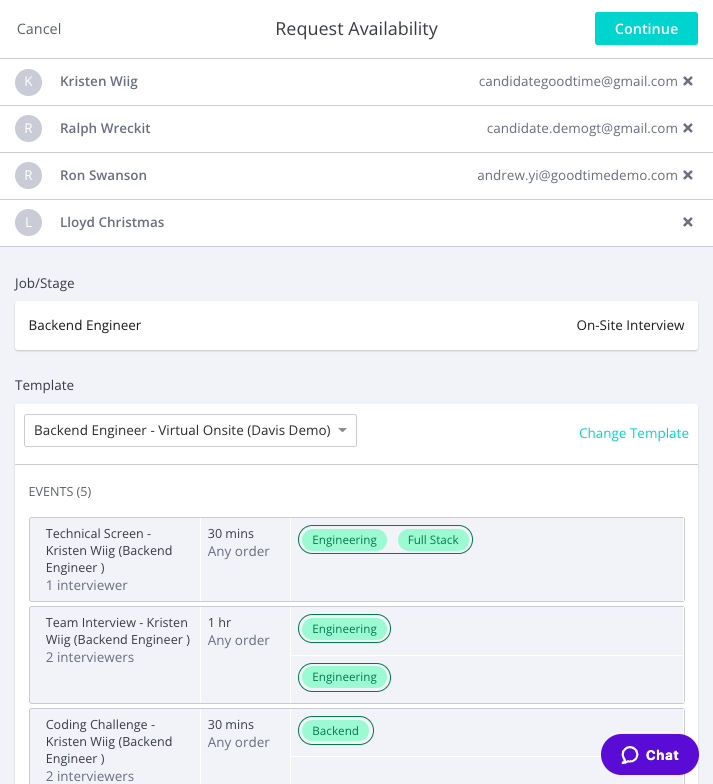 You will be able to review the email communication and invites and edit anything prior to sending the Request Availability as you normally would.
You can standardize the calendar event and the candidate email to the candidates and replicate that process through the entire interview phase

Each candidate will receive the request availability separately.

Candidates will NOT be notified that multiple candidates received this email.
Additional Resource on University, Intern and Batch Hiring