TL;DR: Google Calendar recently released a 'Known Sender' update which was intended to help combat SPAM events landing directly in a users calendar. This new feature from Google Calendar can impact your ability to send calendar invites to candidates, especially if you have not engaged with the candidate before and you are not recognized as a known sender. Shown below are some tips to avoid this new GCal feature becoming a blocker to your scheduling workflows.

Direct candidates to their Google Calendar email to accept calendar invites:
While a candidate will typically see their GoodTime generated confirmation email it is possible they may overlook the email generated by Google Calendar. Using some descriptive language in your confirmation emails it can be valuable to redirect your candidates to their Google Calendar generated Email to ensure they can validate that they know you as a sender and then accept your calendar invitation. A candidate's GCal email (which informs them of their calendar event), is always titled: "Invitation: ...." with the section after the colon reflecting what is set as the candidate calendar event title. The following graphic provides an example of what the GoodTime and Google Calendar generated emails may look like: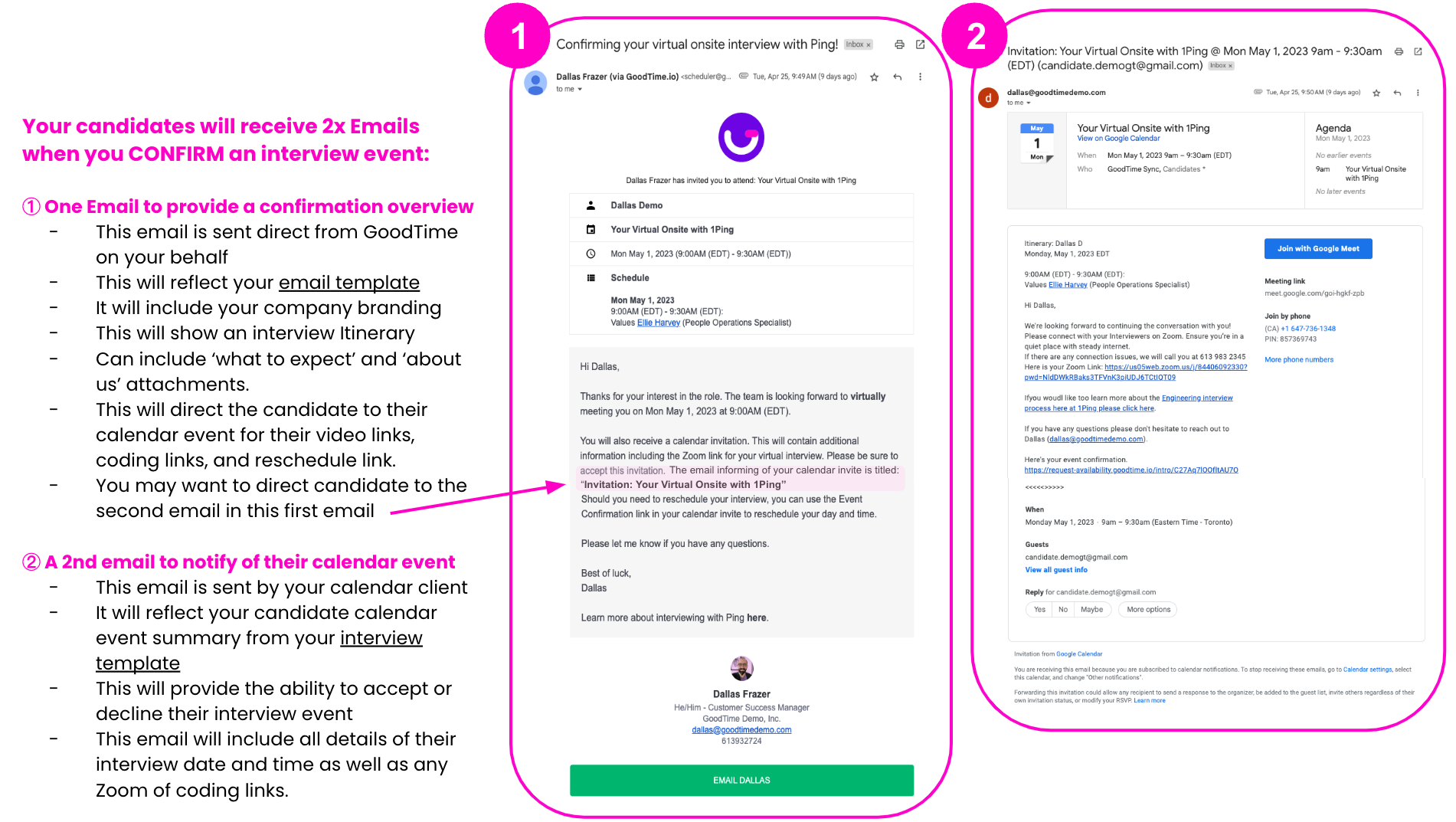 If your first engagement with a candiate is to send a calendar Invite:
If your first interaction with a candiate is to send them a calendar event (such as if you have collected availability outside of GoodTime and move them directly to 'Schedule Now') they will need to confirm that they know you as a sender before your calendar event will land on their calendar. They can do this via clicking the 'I know the sender' confirmation button in their inbox.
When a candiate clicks on the "I know the sender" button it will add your email address (as the sender) to their Google Calendar safe senders list and allow all future events to be added automatically to their calendar.



Proactively encourage candidates to allow events to added automatically to their calendar:
It is possible for Google Calendar user to override this setting and allow for events to be added to their calendar automatically. If they are actively interviewing this is something they may want to consider doing regardless. In order to allow calendar invitations to be added automatically within your Google Calendar, you should follow these steps
Click

Settings

on the top right hand side of your Google calendar.
Under

General, select

Event Settings.
Under

Add invitations to my calendar,

select

From everyone.